This brief profile of Stephen Campbell has been extracted from information supplied by Laureen Pierre
The role most associated with Stephen Campbell is his struggle to secure the land rights of Amerindians. The fact that many villages now have official title to their lands is largely owing to the efforts of Campbell, although he never lived long enough to see the first titles granted in 1976.
Stephen Esterban Campbell was born in Moruca on December 26, 1897, and was orphaned at a young age. Brought up by a grandmother, he attended Santa Rosa Primary School, which was run by the Sisters of Mercy in those days, but had no opportunity to take his formal education any further.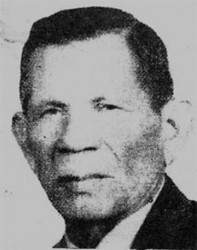 His early work experience gave no hint that he would become one of Guyana's better known legislators; in his first years he was employed in the interior on timber grants, as a survey gang-man, a rubber tapper and a prospector for bauxite. Subsequently, he became a catechist-teacher in a Wapishana community in the Rupununi, and after two years there he was transferred in 1923 to work as a catechist-teacher on the Pomeroon.
Following his marriage to Umbelina Da Silva in 1928, with whom he was to have eight children, he worked as a farmer for a time, although subsequently went back to teaching in Martindale. Then there were spells as manager of the John Fernandes wallaba concessions on the Demerara River, manager of the Da Silva sawmills in the Waini and store-keeper at the Government Trade Store in Kamarang. During this period of his life he gained a thorough understanding of the issues affecting Amerindians and the affairs of the North West District.
Campbell's first contact with the wider political world, came in 1953, as a presiding officer for elections in the North West District, but it was not until 1957 that he formally entered politics. As a member of the National Labour Front (NLF), Campbell, standing for the North West District, was the only person to win a seat for his party. It was something of a landmark, since he was the first Amerindian to win a seat in a general election.
From that point on he served in the legislature until his death in 1966, concentrating his energies on Amerindian social issues and the development of the interior, among other things, where he achieved some successes. On the cultural front he was a confirmed believer in the preservation of Amerindian languages, and that children should be taught in their own languages, an idea which has definite resonance nowadays. At the same time he promoted the idea of a scholarship programme for Amerindians in mainstream educational institutions, and vocational training for them. "Train one to attain," he used to like to say, "and you help the rest to aspire."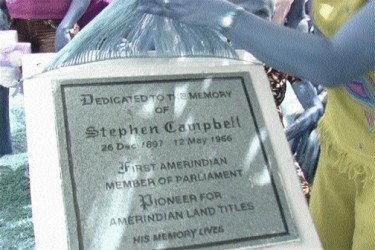 But of course, as said above, his great achievement in politics was in the arena of Amerindian land rights. He was very concerned during the pre-Independence period that after Independence the indigenous people might lose their rights to their traditional lands, and in order to further his efforts in this regard he resigned from the NLF, contesting the 1961 and 1964 general elections under the umbrella of the United Force (UF). Since the UF was the third party in the legislature which was partly dependent on the Amerindian vote, this decision allowed him to attend the Independence conferences in London in 1962, 1963 and 1965, where eventually it was agreed that Amerindians should be given legal ownership to lands in an independent Guyana.
Around the Web