A police officer stationed at Mahdia and accused of harassing sex workers in the Region Eight area has been reportedly captured on video assaulting one of them and the Guyana Women Miners Organisation (GWMO) plans to take up the issue with the senior officers of the police force.
Speaking to the Sunday Stabroek President of the GWMO Simona Broomes said that during a recent visit to the area a number of sex workers complained about the attitude of the officer but only one wanted to go on record with her complaint.
According to the woman she was dancing as a part of the entertainment in a bar and a number of the male patrons were pelting her with lighted cigarettes. She complained to the bartender who pointed to the police officer who was dancing with a woman and suggested she report the issue to him.
"She went to the policeman and told the policeman and he said, 'why you telling me, there is nothing I could do about it,'" Broomes said recounting the woman's story.
The frustrated woman decided to exit the bar and as she was leaving she used indecent language to express her anger at being burnt with cigarettes and the police officer not taking any action to protect her.
"The policeman left the woman that he was with and went to her and dealt her several slaps. He couldn't deal with the people who were burning her, abusing her, but because she used indecent language he, a police officer, physically assaulted her in public," Broomes said.
Broomes went on to say that there were reports about the officer assaulting other women in public. At least one woman had given a statement to another non-governmental organisation and one of its members had taken the statement to the officer in charge of the Mahdia Police Station who said he would speak to the officer concerned.
The GWMO president said that women in the area complained about being disrespected by miners, but when police officers were also guilty of this it was worse. She said many of the women are afraid to officially record their experiences because they fear victimization. They believe that if the officer is transferred or disciplined they would be targeted by his colleagues.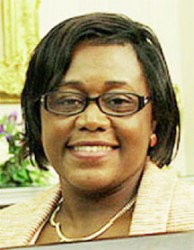 Broomes said her organisation would be writing to the commander of the area and to Commissioner of Police Leroy Brumell and naming the police officer, detailing the woman's experience.
"I am still happy to know that …there is one woman out there who could stand up and say 'yes, you could even put me on the news… this is my story and this is what happened to me,'" Broomes said.
During an outreach to Regions 8 and 10, the GWMO removed four teenagers ‒ one just 14 years old ‒ who were working in bars and were suspected of being trafficked.
Broomes said they strongly believe that educating sex workers will go a long way to address the problem, as well as educating men that it is a crime to have sex with underage girls. She said they have plans to meet Minister of Education Priya Manickchand to find out from her about the ministry's plan in respect of combatting trafficking in persons, moving into schools and educating children. She said the GWMO would like to partner with the ministry in this area as it is important to educate children since many of the victims are young girls.
"I think we need to really raise the level of awareness throughout the country…" she said, adding that the GWMO through its young members will lift awareness of this crime on social media as many young people could be reached through this medium.
She once again voiced concern about the manner in which trafficking victims are treated, with many of them not being given a second chance even though there are numerous provisions in this regard under the 2005 anti-trafficking act.
"The act says that victims are entitled to employment, education, training and housing… We cannot allow the government to write these laws and just have them in writing… you cannot leave these survivors to just be thrown by the wayside to be re-trafficked," she insisted.
'Frightening reality'
Meanwhile, Broomes described Region 8 and more specifically Mahdia as "an area with a frightening reality" as information received indicates that parents are trafficking their children.
"Imagine a girl going to school and at nights she drinking, she having sex and sex for money. On weekends she into business, she having sex for money and the environment is just about the shops and the revelry…" a concerned Broomes said.
She said the young girls are also seen on the street at night "parading almost naked," and she said this will definitely have a negative impact on the psyche of young people.
"I think in terms of social ills it is a community that can really grieve you as a parent," Broomes stated, adding that the behaviour of the youths is accepted.
In Mahdia and the surrounding backdams, according to Broomes, there are countless sex houses and she feels that the Guyana Geology and Mines Commission (GGMC) could do more to control these operations. She said while trafficking in persons is a crime for the police, the illegal shops and buildings could be booted out of the area by the commission, as they are illegal according to the mining regulations.
"It is sad to see that we are coming to two years as an organisation and nothing much is being done in terms of prevention of trafficking in persons…" she observed. Citing an incident, Broomes decried the attitude of a staffer at the Ministry of Human Services & Social Security when she visited its anti-trafficking department with a survivor of the crime.
"I asked her to be properly dressed, so she had on a long-sleeved jersey, her hair was nicely combed and so on, and she had on tights and it gave her the feeling that she is properly dressed…" Broomes related.
However, she said, as they were being taken to a room for a meeting a woman staffer stopped her male colleague who was escorting them and loudly remarked that the ministry had a dress code. Broomes said the survivor immediately knew she was being referred to and she was obviously embarrassed. According to the GWMO president the staffer was wrong to do this and she called for the proper education of staffers.
Meanwhile, she said at Number 58 in Region 10 there are several young persons with CSEC subjects who desire to join the nursing profession and the organisation would attempt to raise the issue with the Minister of Health.
Around the Web