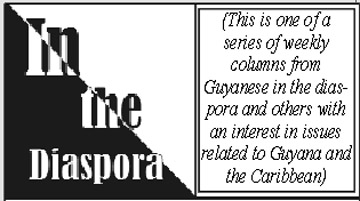 By Tiffany Barry
 Tiffany Barry is a Lecturer in the Department of Sociology and the Women's Studies Unit, both in the Faculty of Social Sciences at the University of Guyana. She is also Social Change Consultant at the Society Against Sexual Orientation Discrimination (SASOD).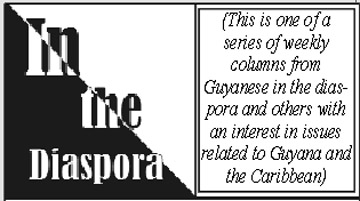 The 16 days of activism to end gender-based violence began on November 25 with the International Day for the Elimination of Violence Against Women (IDEVAW) and ends on December 10, International Human Rights Day. During this period, we raise awareness that gender-based violence is targeted violence directed against persons on the basis of their gender. It persists because of inequalities between genders, discrimination, and oppression and oftentimes affects the most vulnerable in our society.
There is no argument that gender-based violence disproportionately affects women and girls at every stage of their lives leaving them more vulnerable to domestic, sexual and other forms of violence. There is little consensus however, that men, boys and marginalised groups such as lesbians, gays, bisexuals and transgender (LGBT) persons are also affected by gender-based violence. During these 16 days of activism these issues should be addressed because gender-based violence is affront to our human dignity, and our human rights. It hinders our abilities to lead healthy and productive lives; and it reinforces inequalities and justifies discrimination.
In Guyana, violence against women has reached pandemic proportions, and affects a wide-cross section of our female population. On November 25, Guyanese remembered women such as Maharanie Permanand, who have lost their lives to intimate-partner violence, who have been left bruised and disfigured as a result of physical and verbal abuse, sexual violence, and human trafficking. During these 16 days, we call for more action to be taken to prevent this violence from occurring, and to protect survivors. Despite the Domestic Violence Act 1996 which gives victims legal protection under the law from their abusers, domestic violence is still rampant in Guyana. It seems engraved in our culture; it spreads across socio-economic, racial and religious backgrounds.  According to a September 10 article in the Stabroek News, based on figures from the Guyana Police Service, of the 85 reported murders for the period August 2012 to August 2013, 13 were related to domestic abuse. Despite the efforts of numerous civil society groups, these forms of violence still persist with impunity for the perpetuators.
Speaking at a film screening and panel discussion to mark IDEVAW hosted by the Guyana Equality Forum (GEF), a group of civil society experts from organizations such as Red Thread, Help and Shelter, African Cultural Development Association (ACDA) and Guyana Responsible Parenthood Association (GRPA) lamented that violence against women is a direct result of problematic cultural norms which often value the family's "image," more than women's lives, and tells women that they must endure the abuse for the sake of keeping the family together. They pointed out that to eliminate this pervasive violence, we need to change these cultural norms; to place more emphasis on promoting healthy relationships between genders that are built on mutual respect and understanding. They called for men to play a central role in eliminating violence against women. They also reiterated that members of the society should speak up when they witness violence and called for the strengthening of legal institutions to protect women and girls from violent situations.
It should be noted that the state has a responsibility to act when it comes to protecting the human rights of all its citizens. Guyana is a signatory to numerous international human rights treaties, such as the International Covenant on Civil and Political Rights, Convention on the Elimination of all forms of Discrimination Against Women and the Inter-American Convention on the Prevention, Punishment and Eradication of Violence Against Women ("Convention of Belem do Para). All of these treaties require state parties to strengthen legal institutions for redress and justice, and provide legal protection to women. Guyana has complied, to some extent, with the passage of the Domestic Violence Act 1996, Prevention of Discrimination Act 1997 and the Trafficking in Persons Act 2005. The protections stated in these pieces of legislation are often not implemented however, and require resources and enforcement to be effective.
Moreover, gender-based violence is still framed in a very limited, hetero-normative way, that is, as violence against a woman by a man and vice-versa, failing to acknowledge targeted violence against lesbian, gay, bisexual and transgender (LGBT) people – because they transgress socially-enforced gender norms – as forms of gender-based violence. As a result, even when we speak of violence against women we often neglect to address violence against lesbian, bisexual and transgender women. These women face high levels of violence on double fronts: because they are women and because of their sexual orientation or gender identity. Their voices are often silenced, and in the face of violations of their human rights they are granted no legal protection in Guyana. Why does our society not address homophobic and transphobic violence as forms of gender-based violence? At the IDEVAW event, Danuta Radzik from Help and Shelter  stated that this is another negative consequence of the same cultural norms which suggest that anything different must be feared and not tolerated, and that our diversities must be suppressed.
Guyana has retained archaic, colonial-era legislation such as laws that criminalize cross-dressing and specifically penalize gender-nonconforming individuals. There are gaps in the nation's anti-discrimination laws as grounds such as sexual orientation and gender identity are conspicuously missing, and as such LGBT people live in an environment of intolerance and fear which negatively affects their quality of life, mental health and economic circumstances.  In a 2012 study conducted by Dr. Christopher Carrico, "Collateral Damage: The Social Impact of Laws Affecting LGBT Persons in Guyana," commissioned by the Faculty of Law University of the West Indies Rights Advocacy Project (U-RAP), one woman reported being threatened in the streets by a strange man with a pair of scissors that he would cut her dreadlocks off because she was a "disgrace to Rasta" and had a "dirty lifestyle." Another woman was laughed at by the police as she attempted to make a report about homophobic violence. A transgender woman was raped while in police custody and her cry for help was ignored by the police who gave her cell mates condoms to use in the attack. How can we see these inhuman actions occurring and not be moved to act?  How can we say that their victimization is not as important or relevant as any other person in our society?
At the 52nd session of the Committee on the Elimination of Discrimination Against Women (CEDAW) in New York,  several human rights organizations including Guyana Rainbow Foundation (GuyBow), the International Gay and Lesbian Human Rights Commission (IGLHRC), and the Society Against Sexual Orientation Discrimination (SASOD) presented a shadow report to CEDAW entitled "Human Rights Violations of Lesbian, Bisexual, and Transgender (LBT) People in Guyana," where they highlighted the violence faced by LBT women in Guyana and called for the repeal of discriminatory and archaic laws that foster environments of intolerance and promotes violence against these women. At the session, the recommendations to the Guyana government included that they should "provide effective protection against violence and discrimination against all groups of women through the enactment of comprehensive anti-discrimination legislation that includes the prohibition of all forms of discrimination against them and the decriminalization of consensual adult same sex relations…" Gaps in the Prevention of Discrimination Act 1997, which deals with employment, also need to be addressed by including sexual orientation and gender identity as protected categories.
During these 16 days of activism, we also need to recognize that men and boys – though primary perpetrators – are also victims of gender-based violence and that their victimization needs to be addressed. In Guyana, many of the programmes developed to support victims of gender-based violence or domestic violence only focus on the needs of women and girls; with very few to assist young boys especially who are affected.
Earlier this year Dr. Vivienne Mitchell-Amata, Head of the Medical Council of Guyana, called for greater collaboration between doctors, therapists and counselors to address the issue of domestic violence, in an effort to curb the onslaught of violence ravaging our society. Counseling also needs to be available to boys so that they can express their feelings and learn how to deal with negative emotions. The civil society experts at the IDEVAW event also noted that cultural norms supporting 'machismo' attitudes in boys should also be addressed because they push boys to conform to characteristics that may be detrimental to their emotional and psychological development. This form of psychological abuse affects men and boys because it causes them to suppress emotions and adopt harmful masculine dispositions, until eventually they lash out violently as the only means of expressing themselves.
Due to these harm-causing messages which are often transmitted in our popular culture, such as the lyrics in Caribbean music, boys who do not conform are oftentimes bullied and ostracized.  Additionally, because of the lack of legal protection on the grounds of sexual orientation and gender identity, homophobic and transphobic violence is continuously directed towards gay men and transgender women with impunity. In the Carrico report, gay men shared stories of being violently attacked because of their sexual orientation, of not being allowed to make reports to the police because they are a "mockery to the system." In his study, Carrico also reported that gay men are often unable to report cases of rape, intimate-partner violence and other forms of verbal and physical abuse because of their sexual orientation. These are all offences that are penalized under the laws of Guyana. LGBT Guyanese are, however, often denied legal protection because the law itself criminalizes their sexual behaviours and gender expressions, and reinforces this discrimination by its utter silence in protective clauses which do not include sexual orientation and gender identity.
As we approach International Human Rights Day, let us reaffirm our commitment to eliminate gender-based violence within our society. Let us seek to change cultural norms that normalize violence against persons simply because of their genders and sexualities. Let us push for the government to strengthen institutions tasked with protecting and preventing gender-based violence. Let us remind our parliamentarians that they have an obligation to protect all women and girls, and men and boys, including LGBT people – from violence and discrimination. Let us remind them of their commitment when  they signed the Universal Declaration of Human Rights which states that "Human Rights and fundamental freedoms are the birthright of all human beings, its protection and promotion is the first responsibility of governments."
Around the Web