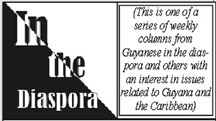 By Joel Simpson
Joel Simpson is the Co-Chairperson of
the Society Against Sexual Orientation
Discrimination (SASOD) in Guyana.
Tomorrow, December 10, is International Human Rights Day. The 2013 theme declared by the United Nations (UN) is "20 years working for your rights." This 20-year highlight marks the anniversary of the adoption of the Vienna Declaration and Programme of Action at the World Conference on Human Rights held in Vienna in 1993. The document heralded a new era in the promotion and protection of human rights and is considered one of the most significant documents of the past quarter century. 2013 also marks 20 years since the Office of the UN High Commissioner for Human Rights was established. For SASOD, it's 10 years since our birth event on June 7, 2003, in Guyana. On this year's theme, UN Secretary-General Ban Ki-moon said: "As we commemorate the 20th anniversary of the Vienna Declaration and Programme of Action, let us intensify our efforts to fulfill our collective responsibility to promote and protect human rights of all people everywhere."  The added emphasis is mine, as the focus on a shared ownership of human rights and the fundamental principle of equality resonates with me. And this is what I want to discuss: our collective responsibility and the human right to equality.
Madiba's Legacy and Lessons for Guyana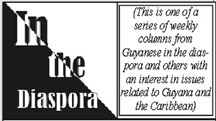 As I was preparing this column, the world-famous South African freedom fighter, Nelson Mandela, passed away last Thursday, December 5. Madiba's death caused a moment of pause, to reflect on his life and legacy in the struggle for equality in South Africa, and across the globe. There have been many detailed commentaries in the local press on his legacy. But there is almost a conspicuous silence among these offerings on his pioneering leadership in the anti-apartheid struggle for equality of lesbian, gay, bisexual and transgender (LGBT) South Africans.
Phumi Mtetwa's commentary titled "Bill of Rights allows rainbow flag to fly proudly over rainbow nation" published in the Mail and Guardian on July 25, 2013, provides a very insightful summary of Mandela's pro-LGBT legacy, which is worth summarizing here, as a fitting tribute to Madiba.
South Africa's 1993 interim constitution had an equality clause which recognised a range of grounds against which discrimination was prohibited. Sexual orientation was included among them. In his 1994 inaugural address, President Mandela reiterated that the Bill of Rights states that "regardless of colour, gender, religion, political opinion or sexual orientation, the law will provide for equal protection of all citizens." In February 1995, a small delegation of the National Coalition for Gay and Lesbian Equality (NCGLE) met with President Mandela to acknowledge his support for equality, and reiterate the importance of his government fulfilling its commitment to gay and lesbian South Africans.
The South African constitution was adopted in 1996 with the equality clause in the Bill of Rights outlawing discrimination based on sexual orientation. Madiba's inclusive leadership and legislative pioneering made South Africa the first country in the world to prohibit discrimination based on sexual orientation in its constitution. The post-apartheid South African constitution inspired many of the reforms in the Guyana 2001 – 2003 constitution reform process. In 2001 the National Assembly sought to expand the constitutional right to equality by including many of the protected categories in the South African constitution as grounds against discrimination in the Guyana constitution, including sexual orientation. Although passing the National Assembly unanimously in 2001, the Bill was denied assent by then President Jagdeo and sent back to parliament for re-consideration after protests from sections of the local Christian and Muslim communities. When the Bill came back to parliament in 2003, conservative religious figures, including the now Minister within the Ministry of Finance, Juan Edghill, led a vocal anti-gay crusade against the "sexual orientation" amendment.
When the African National Congress (ANC) held its 50th congress in 1997, the party adopted a resolution opposing discrimination based on sexual orientation in South Africa. The resolution drew on the party's 1993 "Ready to Govern" document, which had included support for equality of LGBT South Africans, committing the party to public representation of LGBT people, and calling for programmes to combat homophobia and promote equality in the party.
In Guyana, in a January 2011 parliamentary speech during the budget debates, Raphael Trotman of the Alliance for Change is quoted as saying: "We desperately need a president and a government who demonstrates the capacity, the ability and willingness to bridge the ethnic and political divide, to forge a culture of accountability, to put Guyana and all people first and not one's ego, blind ambition, ethnicity, gender, religious belief, age, and even sexual orientation." Opposition Leader David Granger of A Partnership for National Unity (APNU) has many times responded to questions from the media indicating that APNU does not discriminate on the basis of sexual orientation. At the same time, both the AFC and APNU have invoked popular homophobia during election campaigns. As far as I'm aware, no
political party in Guyana has any resolution or document which opposes homophobia in their party, during campaigning or as a policy position.
Long Walk to De-Colonisation
Guyana gained independence from our colonial masters in 1966, almost half a century ago, but the process of de-colonisation is far from complete. In 2013, we have a parliament fumbling over repealing colonial-era laws that are incontestably inimical to human rights. Because of a commitment made to the UN Human Rights Council, a nine-member special select committee of the National Assembly has been set up to hold public consultations on the abolition of corporal punishment, capital punishment, decriminalisation of same-sex intimacy and cross-dressing, and discrimination against LGBT people. Over a year since its establishment, the committee seems to be moving at a snail's pace, as even the first of the three topics for consultations, corporal punishment, has not concluded as yet.
And just a few months ago, the acting Chief Justice Ian Chang made a landmark decision in the case of McEwan, Clark, Fraser, Persaud and SASOD vs. Attorney General of Guyana.  Section 153(1)(xlvii) of the Summary Jurisdiction (Offences) Act makes a criminal offence of a man wearing female attire, and a woman wearing male attire, publicly, for any improper purpose. The Chief Justice ruled that cross-dressing in a public place is an offence only if it is done for an improper purpose. The case was initiated four years ago following the February 2009 conviction and fine of seven individuals for violating section 153 (1) (xlvii) of the Act. Unrepresented and unaware of their rights, the defendants were detained in police custody over the weekend, abused and had many of their rights violated, and then hustled through the legal system and fined $7,500 (GYD) each under the archaic 1893 law.
SASOD and other Guyanese and Caribbean rights groups have praised the court's ruling that "it is not criminally offensive for a person to wear the attire of the opposite sex as a matter of preference or to give expression to or to reflect his or her sexual orientation." However, the court also ruled that SASOD had no locus standi (standing) in the matter since some (four of the seven) individual applicants brought the claim in their own names as the persons who were personally aggrieved. The Guyana Constitution was the first in the English-speaking Caribbean to give "an association acting on behalf of its members" the right to bring a claim before the Constitutional Court that there has been a breach of the guaranteed fundamental rights, thus enshrining the notion of our shared and collective responsibility for human rights. A community group could, and in fact should, act on behalf of its members, especially in a context where social and economic oppression causes marginalised groups to be more vulnerable to stigma and discrimination. It is not only individual rights which are at stake, but also the collective interests of the affected community. We are appealing this and other aspects of the decision.
Our Collective Responsibility
While the state holds the primary duty to respect, protect and fulfill human rights, SASOD recognises that we also have a critical role to play in the face of large-scale government abdication of its responsibilities to LGBT Guyanese. While government leadership is necessary for the passage of laws and policies which respect LGBT equality, legislative and policy reforms are not going to end social and economic exclusion and oppression of LGBT people. Our communities are historically disadvantaged by the deep-rooted and colonial homophobic and transphobic prejudices which have become ingrained in the psyche of the nation.  SASOD has therefore undertaken an ambitious and mammoth project to build a LGBT community centre in Guyana – very likely the first in the English-speaking Caribbean – aiming to meet the needs of the communities we serve whose social and economic rights are inhibited due to anti-LGBT discrimination. In our work over the past decade, we receive reports, way too often, from LGBT youth in particular, about family members abusing them because of their sexual orientation or gender identity. Some are put out of their homes, some run away, and some are driven to sell sex, use and trade drugs, just to meet their basic needs of food, clothing and shelter. We work with state agencies charged with tackling these issues, and civil society organisations which are often very sympathetic, but the state does not provide enough resources to adequately meet the needs of orphans and other vulnerable children within its care; much less youth who need urgent and sometimes temporary relief. The centre will provide transitional housing for LGBT youth in crisis situations.
Long-time SASOD supporter and international Guyanese artiste, Nhojj, has launched the first public fund-raising campaign to help us build this multi-purpose centre in Guyana. We are appealing to our readers including those in the diaspora, to make a donation of any amount using a credit or debit card through the secure, fund-raising website, GoFundMe.com via the web-page:   www.gofundme.com/guyana-sasod-lgbt-center. If you are a US citizen, your donation is tax deductible. The Astraea Foundation for Lesbian Justice, one of SASOD's donor partners, is serving as fiscal sponsor for the campaign, directly collecting the funds raised and ensuring they are safely transmitted to the SASOD Community Centre fund. Donations can also be made anonymously, and by cheque or direct deposit to the "SASOD Community Centre" fund at Scotiabank, account number: 10024548, or by contacting SASOD by email at sasod@sasod.org.gy or through our website: www.sasod.org.gy
If you are unable to make a financial contribution, there are many other ways for you to show your solidarity for our collective struggle to realise the human right to equality and non-discrimination in Guyana. This Saturday, December 14, 2013, the Guyana Equality Forum (GEF) will host our second annual Walk for Equality in observance of Human Rights Day from 15:00 hrs, commencing at the Parade Ground on Middle and Carmichael Streets. The GEF is a network of civil society groups working cohesively to realise human rights and achieve equality for all Guyanese. The GEF is chaired by Red Thread while SASOD serves as its secretariat. We invite members of the public to join us as we "intensify our efforts to fulfill our collective responsibility to promote and protect human rights of all people everywhere." Our theme for the Walk is "equal rights and justice for all Guyanese; no exceptions." Will you take a stand? Join us.
Around the Web