This beautiful day has arrived – today!  This humble, man-in-the-street column has completed twenty (20) years today.
Yes friends this is the twentieth anniversary of Frankly Speaking which started in January 1993, when (Mrs) Doreen de Caires challenged me to "continue" writing for Stabroek after the PNC's Election loss.  Though I had facilitated written features for publication for the Party, I did not write them all, as Mrs de Caires thought.  Anyway, Mr  David de Caires also agreed and he chose "Frankly Speaking" over "Allan-Being Frank".  The rest is Stabroek News history, as this, the only real discipline in my life, has outlived many other columns and must rank as one of Guyana's longest, consistent journalistic features.
So I thank Stabroek News  and all of you readers for the support.  Attending the University of Life, though the Faculty of the Streets, unlettered as I am, I know I have provoked thought in a positive manner.  This long sharp blast on my own trumpet sometimes regrets that my prescience has not been usually acknowledged by those concerned.  Indeed I've seen others, in various media, take hold of many of my themes and hints and work them dry.  But then, that made me useful too, as it came/comes with the turf.  So bring out today's drums and dancing girls! What were those main themes over twenty years?
Themes and issues – Frankly Speaking…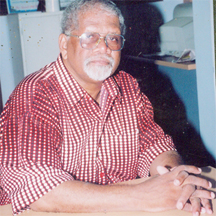 Those who bothered to follow me over the two decades would know that I – not unlike many other commentators and columnists – explored the following quite often: The moral dilemma Drug Trafficking posed.  This is where I explained my sad realization that the insidious business of narcotics handling pervades society to such an extent that even upright, religious, law-abiding citizens –  unwittingly or knowingly  – are made to mix, mingle, even support  Drug Lords and their enterprises. And shrug off that involvement. Joining them because you cant beat them?
2)  The corruption/kleptocracy culture: The few (?) moralistic and upright Guyanese still around must marvel – as I do in these columns – at the "normalcy" of corrupt practices of greed and graft at all levels of society.  The enabling environment, originating under PNC governments, has now blossomed into normal behaviours of thievery.  Every Public and Private Sector entity seems tainted as the principals and their underlings escape effective censure.
3)  Our version of justice: They are no saints themselves as their system seems stacked in favour of the crooks on trial, but the Americans annually criticize harshly how our justice system allows the highest wrong-doing to go scot free.  I have been lamenting the ways in which the guilty are not innocent but laugh at a system that seems to seek cash instead of true justice.
4)  Our Politics and Elections:
During the last twelve years I announced my intolerance of our politics, electoral candidates and my decision to stop voting. (5) Homosexuality and single moms – I pondered these two social issues from time to time.  The GLBT community boasts Guyanese citizens in High Places – the Media, the Military, the Arts, the Sporting Arena.  Tolerance, if not acceptance, is what I preach(ed).  I also discovered that amongst the abundance of single moms, there are no programmes to teach young and potential fathers  responsible parenthood or how to cope economically.  What a good topic for 2013!
6)  Culture, Calypso, Mashramani – I've explored cultural themes: traditions, folklore, art-forms and festivals. I've realized that, with or without government patronage, you can't legislate genuine participation or people embracing festivals against their will. Discuss…
So the foregoing, along with the contribution of the Jagans, Burnham, Hoyte and Jagdeo; Religion/God, Migration and trade unionism, constituted my 20-year contributions through these pages.  I never claimed any scholarly, analytical, academic profundity.  I provoked thought on behalf of the poor "man-in-the-street". Thank you Stabroek News.
Growing up in Blackout
I did not emphasise this issue, continuously, over the past two decades but it is such a consistent national sore and disgrace that I'm certain I dealt with it.
I refer to the virtual daily phenomenon we here know as blackout.  My childhood of the fifties and sixties was devoid of this unwanted socio-development-stifling feature. (Except in 1961/62 when riotous behaviour prevented fuel from reaching Kingston and the term load-shedding was introduced into our national vocabulary.)
From the mid-seventies, accentuated in the eighties, from Burnham right through to this Ramotar administration, no government and its power companies have been able to provide the nation with daily, consistent electricity.  For some 40 years right into a new millennium we have suffered.
My late friend's grandchild, in South Ruimveldt in the Capital learnt "Blackout" and "current"  among his very first words.  A generation – including those who migrated and revisited – has grown up in Guyana's Blackouts. Tell me not of expanding communities and businesses; of the price of foreign fuel or of transmission and distribution thefts and loss.
Can we never experience, necessary, non-stop electric power ever? In 2013 – and beyond?
Regarding the DEA (Part One)
You have probably heard of the USA's Drug Enforcement Administration (DEA).  Established forty years ago, the DEA was meant to be the single federal authority to enforce America's drug laws.  Then, in collaboration with agencies like the Federal Bureau of Investigation (FBI) and Immigration and Customs Enforcement (ICE) among others, the DEA combats drug smuggling and use within the USA.
It also now co-ordinates, pursues and oversees American drug investigations around the world. How interesting must be the tasks and techniques of the DEA's office of Global Enforcement.
As I leave the rest for future columns, I must remind you all that it is the same USA which still provides a most lucrative market for the illegal narcotics produced elsewhere.  So the USA has to be intimate with efforts to stymie or eliminate production and use.  Incidentally, do we ever hear about the amount of say marijuana and cocaine produced in the mighty USA itself?
Oh, why do we not have a DEA branch office in Georgetown? Ask Dr Roger Luncheon.  How did Venezuela and Bolivia treat the DEA? Ask me.  Who are five suspects the DEA knows as Guyanese Drug Barons with links to the Spanish-speaking rest of the continent? Keep reading this space.
Twentieth Anniversary Musings.
*1)  Thanks for the reactions/responses to these offerings via e-mail. (I'm Computer-Shy still! Unbelievable?) Thanks to Dr David Hinds, Ian McDonald, UN Ambassador Talbot, etc. etc.  And yes, even a few rude bloggers.
*2)  Poor Linden. Outsmarted Leaders?  What do you think about government's approach to the post-protest Agreements?
*3)  Poor Government Servants.  They were paid late this "hard" month because of some One Finance Officer or machine!
*4)  This type of Government seems obstinate, most unreceptive to good criticism or ideas.  So why do commentators, columnists, analysts bother to write?  Let a thousand thoughts contend!  Where all men think alike no one thinks at all!
*5)  Other sides to the Mashramani Festival: Concerts for the Elderly.  Re-enactment of Cultural Ceremonies.  Essay-Writing for Schools. Art Competitions.  Republic lecture series.  Talks on 1763 Rebellion To Students Throughout The Country. Bright-up Guyana Enhancement.
'Til next week!
(Comments? allanafenty@yahoo.com)
Comments
-Gosh! Just what should I eat? Try as I intended, it doesn't seem that I could "leave Emancipation month alone".
– Farewell, rest well Hector This is the briefest of reminiscences of the Caribbean Festival of the Arts – Carifesta.
Emancipation economic projects From the mouths, pens and computers of writers, analysts, qualified, experienced and wise persons – as well as the ordinary, law-abiding and vulnerable citizens – there flowed an outpouring of views and suggestions regarding the recent prison riots, arson and escapes.
"Assisting" our "Independence" Even though today's should be among my most brief, I suspect, nay, I know, that again I'm stepping into waters I know little about (their depth).

Decades ago I actually was allowed to experience two separate Cabinet meetings for very, very brief periods, representing the then Ministry of Information.