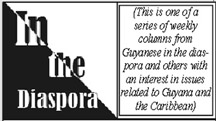 Dr. Maya Trotz is an Associate Professor of Environmental Engineering at the University of South Florida. She is currently on sabbatical with the Caribbean Science Foundation in Barbados.
By Maya Trotz
The national competitions for the Sagicor Visionaries Challenge kicked off in the Umana Yana on March 16th. Since then, 10 other Caribbean territories have held their competitions which feature teams of secondary school students who have come up with sustainable and innovative solutions to a challenge facing their school and/or community, solutions that use Science, Technology, Engineering and Mathematics (STEM). By April 5th Anguilla and Barbados will join Antigua & Barbuda, Belize, Grenada, Guyana, Jamaica, St. Kitts & Nevis, St. Lucia, St. Vincent & the Grenadines, and Trinidad & Tobago in hosting the national competition. The team leader and teacher from the winning teams in each country will meet each other on April 11th in Barbados where they will participate in the regional challenge on April 12th and 13th at the Sherbourne Conference Centre which will be free and open to the public. This cohort will compete with each other for the top three prizes which are monetary awards for their schools that are $5,000 US, $3,000 US and $1,000, respectively. Beyond the regional competition they will meet again in July in Florida for a 7 day STEM ambassador programme organized through the Museum of Science and Industry (MOSI) in Tampa.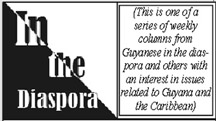 Whether it was Guyana's Umana Yana, St. Kitts & Nevis' Independence Square, a ballroom in Belize's Princess Hotel, the auditorium at Queens Royal College in Trinidad and Tobago, or the music room of Marigot Secondary in St. Lucia, the energy, motivation and ingenuity of students transformed the spaces into rooms filled with engineering models, powerpoint presentations, experiments, samples, posters, and countless young voices sharing their knowledge. At least three different judges evaluated each project based on its relevance to sustainable communities, creativity and innovation, methods of investigation, project plan and design, engagment with, linkage to STEM, presentation skills and knowledge of team members. Only the teams with the three highest scores were awarded science prizes for their schools, but as Sagicor's Chief Operating Officer Mr. Richard Kellman said to students in Guyana and Trinidad and Tobago, "Even if you do not win the first prize in this Challenge, you have the opportunity to seek and secure funding for your project through your school's PTA and alumni, or the local business community in order to bring your project to reality. You have the opportunity to become a mentor for a subsequent Visionaries Challenge. You can become an entrepreneur and your own boss, or even the next Steve Jobs nurtured right here in the Caribbean. Recognize your good fortune and give your dream a chance to develop." Having attended the competitions in Guyana, Belize and St. Lucia on behalf of the Caribbean Science Foundation, one of three of the project partners, many students said that they were going to continue with their projects and were delighted to be a part of the challenge. Many judges and visitors also said that they would follow up with certain projects, in particular with funding resources needed for implementation.
The winning team from Guyana, Zeeburg Secondary, titled their project, "Use of a Shrimp Dryer to Reduce Air Pollution at Zeeburg Secondary School." Their school is part of a fishing community located near to the Atlantic Ocean and shrimp drying is done on the seawall next to the school. According to them they "propose the construction of a shrimp processor to reduce the adverse environmental effects experienced by the school and its immediate community.
The construction of a shrimp processer will be useful during the rainy season. Food safety practices can be better implemented with use of the drier. The drier will be solar powered and reduce the time taken to process the shrimp. Alternative energy sources for the shrimp dryer can be harvested from sources like coconut shells, sawdust, and wind energy." The student team included Lakshman Ramdat, Allia Razack, Romeeza Bakhsh, Abidah Ali, Fareeza Ahmad, Salika Wood, Chanderpaul Jaimangal, Mark Rupram, Nazim Baksh, Neranjan Ramdass, and Nataziea Bumbury. Anyone who visited their booth would have been impressed by their zero waste project – shrimp shells for the agricultural plot, dried shrimp for human consumption, and shrimp dust for a food supplement and their shelling machine which was built by a teacher at their school. The agriculture teacher Mr. Dhanraj Rambarose, and team leader Lakshman Ramdat will represent Guyana at the regionals. Doing so is not that simple as their exhibit must be affordable to transport, and meet Barbados' import requirements, especially with wood and agricultural products. Luckily, the Guyanese community is rallying around this team to ensure they have the winning presentation in Barbados.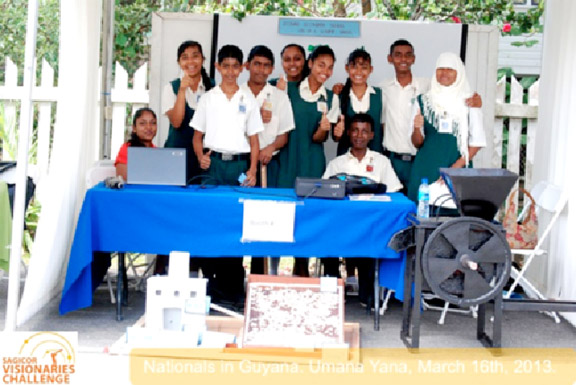 Winning in Barbados on April 13th will not be easy. Seven judges from academia, business, regional and international organizations, will visit each of the twelve booths together on April 12th. They will spend twenty minutes with each team leader, and, using the same criteria from the national competition, evaluate the projects. The nine other winning projects to date are summarized below.
Antigua & Barbuda will be represented by Mr. Uchenna Iwuji and Julien Kentish from St. Joseph's Academy. Their project, "213 JKD(M)T MULCHING REMOTE CONTROL LAWNMOWER" invents a lawnmower that will be used in the household, at schools and within the communities. According to them, "This mulching remote control Lawnmower can be used to help people such as farmers who own and want to cut large acres of land for planting, persons who make grass cutting a hobby and persons who are way too old to do it themselves and financially unable to hire someone to do it. Our aim is to lessen the walking, the pushing, the pulling for people in our communities especially the elderly and the janitors in our school."
Ms. Shakira Gonzalez and her student Angel Navidad from Bishop Martin High School will represent Belize with their project "Coconuts4life" which will develop a coconut orchard and ecological park in their school ground that will: 1) Produce coconut water for students; 2) Produce coconut material (snacks, ornamentals & jewelry, buttons) that will be employed so nothing is wasted; and 3) offer an open place for students and people to play and relax. According to them, "Nearly 9 of every 10 of Bishop Martin High School (our school) students buy flavored drinks over water. Our community, and Belize, does not have a plastic recycling facility. All plastic waste from beverages stays on school grounds, and will persist (anywhere it is put) for centuries until it is degraded."
Ms. Vanessa Seraphine and her student Kendra Jean Jacques from St. Martin Secondary will represent Dominica with their "Flushometer: Little Water Big Flush" project which will ensure the schools 1 liter per flush toilets work when the water pressure is low. According to them they will collect rainwater in a water tank that is connected to a pressure bladder tank and use solar panels for any electricity needs.
Representing Grenada will be Mr. Benjamin Aird and his CAPE student Ms. Stacey Charles from the T.A. Marryshow Community College with their "Water Striders: – Conserving Water and Promoting Health by Going Green" project.  A portion of their project statement reads, "At our school there is a high reliance on tap water for use in the Science laboratories, there is an increased presence of used plastic bottles around the campus, unhealthy eating is common and we lack hygienic soap in most bathroom facilities. Rainwater will be collected and stored in clean covered tanks using guttering systems. This water can be used for the irrigation of plants in the school's greenhouses, both a new and already existing one, which will be used to grow fruits, vegetables, herbs and spices. Moreover, organic soaps will be manufactured at a national laboratory located on the school's campus using some of the produce in our greenhouses. The collected rainwater will be used for cleaning and distillation in the Science laboratories (especially during heavy rainfall), using solar energy to power the distiller, thereby cutting costs."
Ms. Jasmine Jarrett and her student Christopher Roberts from Wolmer's Boys' School will represent Jamaica with their "Electro-Light; Making your electricity bill lighter" project which will allow a person to regulate and monitor the amount of electricity being used in their homes. According to them, "The hardware when connected to a breaker would record the input and control flow of electricity within the home.  The programme is then designed to take that input/recorded data and calculate an estimated bill base on the amount of electricity used, rate of electricity and service charge."
Mr. Lenrick Lake and Candice Greene from Washington Archibald High School will represent St. Kitts & Nevis with their project "When rubber hit the road." Their group will create a rubberized walkway to replace the expensive practice of using concrete. They will work alongside the Ministry of Public Works to design a pavement that can withstand frequent traffic, is cost-effective and is environmentally friendly. To do this, they will incorporate old car tires into a "pavement formula" design since the recent surge in the number of cars on the island has resulted in the buildup of a large amount of used and discarded tires.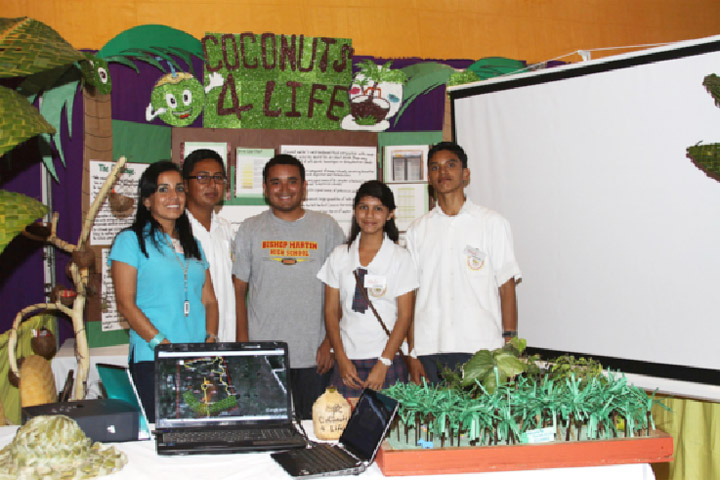 Ms. Anya James and her 5th form student Ravindra Mangar from St. Mary's College will represent St. Lucia with their "Obstacle Detector for the Visually Impaired" project. They wrote, "For the past several decades, visually impaired persons have relied on canes and guide dogs, but with new technology this old fashioned trend can be eliminated. This idea arose while watching a TV commercial for a new car that was fitted with a sensor on the rear bumper which alerts the driver when there is an obstacle behind the vehicle while reversing. This project plans to integrate the Range Finder Sensors along with vibration motors and an Arduino Microcontroller. The rangefinders would take input from the sensors and output feedback to the vibration motors placed on a person's head. As a person gets closer to an object the intensity and frequency of the vibration would increase i.e. its directly proportional to the distance of an object. Everything would be assembled into a headband."
Representing St. Vincent and the Grenadines will be Ms. Lenski Adams and her student Raeisa Byron-Cox from St. Vincent Girls' High School with their "Paper bricks" project that will address the abundance of paper in schools, work places and homes. Their solution is to "use the paper to make a 'Fire Brick', which can be used in grills, camp fires and as a fuel for generation of electricity. Using a paper and water mixture, a mold to shape out the fire bricks and a compressing mechanism, the fire bricks created should light easier, burn cleaner and slower than charcoal.
Ms. Sarah Balgobin and her student Teshenna Mohammed from Naparima Girls College will represent Trinidad and Tobago with their project, "So Who is the Farmer in your Neighbourhood?" Trinidad and Tobago spends billions importing foods that can be profitably grown locally using modern agricultural methods. It is proposed that the following can increase food security in a sustainable Caribbean community: The marketing of kitchen garden kits containing pots/troughs/hydroponic systems, soil, nursery plants, fertilizer, tools and instructions. A kitchen garden in school will act as a model with produce sold within the school community.
Like the national competitions, every team wins at the regional challenge. The amount of work that students and their teachers have put into their projects and their drive to solve a challenge in their school and/or community sheds hope on the development of sustainable Caribbean communities. These students have vision, they have guts, they have brains, and they have demonstrated an interest in, commitment to, and understanding of the world of STEM. For more information on the challenge please visit our website, sagicorvisionaries.org, or email us at info@sagicorvisionaries.org.
Around the Web