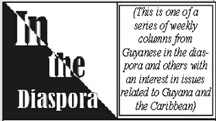 By Joel Simpson
Joel Simpson is one of the Founders and current Co-Chairperson of the Society Against Sexual Orientation Discrimination (SASOD) in Guyana
As SASOD marked its 10th anniversary on June 7, it seems an opportune time to reflect on where we are as a nation in achieving human rights and equality for all Guyanese – especially lesbian, gay, bisexual and transgender (LGBT) citizens of this country. It was June 7, 2003, when then Students Against Sexual Orientation Discrimination entered the public sphere in Guyana, hosting a forum at the National Library to which the entire 65-member National Assembly was individually invited. We were a motley group of some 10 to 15 students, mostly from the University of Guyana, who signed the invitations to parliamentarians as SASOD. Only three opposition Members of Parliament came to our forum: Myrna Peterkin, Vincent Alexander and Lurlene Nestor – all from the then People's National Congress Reform (PNCR). No parliamentarian from the governing People's Progressive Party/Civic (PPP/C) attended. But for the small group at the National Library that Saturday, it was an opportunity to have an informed, reasoned discussion about including "sexual orientation" as grounds for discrimination in Article 149 of the Guyana's constitution.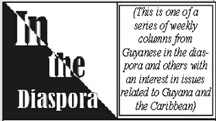 It was this very lack of rational debate that spurred the birth of this student lobby group at the time. Recommendations to expand the very limited grounds for protection from discrimination in Article 149 stemmed from a national constitution reform process, not us. Seemingly inspired by post-apartheid South Africa's robust constitution, the National Assembly in 2001 unanimously passed a constitutional amendment bill with comprehensive reforms, including new expressly-prohibited grounds of discrimination. Three new grounds in particular raised the ire of sections of the religious community: marital status, religious vilification and sexual orientation. Initially campaigning against all three, but eventually settling for the biggest perceived sin, sections of the Evangelical Christian and Muslim communities managed to convince then President Jagdeo not to assent to the bill, but to send it back to the National Assembly for re-consideration. The bill came up in parliament again in 2003, and this was a key moment in SASOD's genesis.
The constitution amendment bill came up for its second reading in late July 2003, and the government presented the "sexual orientation" amendment in a separate bill, indicating that it did not intend to support it. The unprecedented parliamentary maneuver put the National Assembly in a quandary – as then Speaker Ralph Ramkarran reasoned that it could not be sent to the Constitution Review Committee as the bill had not completed its second reading. Members of Parliament on both sides of the House spoke, but a vote was never taken on the bill.
Ten years later, we seem to have come full circle where LGBT issues are again before parliament. In 2010, Guyana came up for its first review before the United Nations' (UN) Human Rights Council (HRC) for the Universal Periodic Review (UPR) process. Stakeholder submissions being an important part of the UPR process, SASOD was provided with an opportunity to report on LGBT human rights issues to the HRC. Our UPR shadow report highlighted laws criminalizing same-sex intimacy and cross-dressing, which led to documented cases of violence, harassment and exclusion, as well as the lack of constitutional and legal protection from discrimination based on sexual orientation and gender identity. As expected, HRC made firm recommendations that Guyana should repeal these discriminatory laws, as well as take legal and other measures to prevent and protect LGBT people from violence and discrimination, so that the state can fulfill its international human rights obligations to all people. The Guyana government committed to holding national consultations on these LGBT issues, and the abolition of corporal and capital punishment. Guyana is scheduled for its next UPR in the September 2014 cycle, and the government will be expected to report to the HRC on the outcomes and related actions of the national consultation process currently underway.
Since the UPR process, SASOD has also been engaged in reporting on issues related to sexuality and gender in Guyana before UN treaty bodies. In June 2012, along with partner organisations, we submitted a shadow report on human rights violations of LGBT people when Guyana came up for review before the Committee for the Elimination of Discrimination Against Women (CEDAW) in New York. CEDAW recommended that Guyana "provide effective protection against violence and discrimination against all groups of women through the enactment of comprehensive anti-discrimination legislation that includes the prohibition of all forms of discrimination against them and the decriminalization of consensual adult same sex relations…" In January of this year, we made a joint submission with local civil society groups on sexuality and gender issues affecting children to the Committee on the Rights of the Child (CRC) in Geneva for Guyana's review. Among several of the recommendations from our joint submission which were adopted, CRC recommended that Guyana take measures to end discrimination against children based on their sexual orientation and/or gender identity.
At the regional level, SASOD has been participating in the Inter-American system since 2007. As part of a larger regional coalition of activist organisations from Caribbean and Latin American states, we have successful lobbied and advanced resolutions on human rights, sexual orientation and gender identity at the General Assembly of the Organisation of American States every year since 2008. In October 2008, we participated in the first thematic hearing on sexual orientation and gender issues before the Inter-American Commission on Human Rights. The advocacy work of the Coalition in the Inter-American system is largely thought to have contributed to the Commission establishing a Unit on the Rights of LGBTI (I for Intersex) Persons in 2011. In December 2011, SASOD became the first Guyanese organization, and the first LGBT human rights organization in the Anglophone Caribbean, to be included as a registered civil society organization in the OAS. The Guyana government raised no objection to SASOD's accreditation. While Guyana has always joined in unanimity with the General Assembly every year since 2008 in signing on to the resolution on LGBTI issues, it is deeply concerning that this year – just last week in fact at the General Assembly in La Antigua, Guatemala – the Guyana government followed other Caribbean states in registering a footnote rejecting the resolution which reads as follows: "The Government of Guyana is unable to join consensus on this Resolution given the fact that several of the issues addressed herein are currently the subject of deliberation by a special select committee of the National Assembly." The special select committee process should not become a convenient excuse for rolling back commitments made at the regional level to protect human rights at home.
The core of this advocacy work has been ongoing documentation of abuses that LGBT Guyanese suffer. In addition to running our own discrimination complaints system, academic institutions in the region and diaspora have helped through their own research to support our work. Dr. Christopher Carrico conducted a seminal study for the University of the West Indies Faculty of Law Rights Advocacy Project (U-RAP) titled "Collateral Damage: The Social Impact of Laws Affecting LGBT Guyanese" which provides a wealth of evidence on the wide-ranging effects of Guyana's colonial-era laws on our LGBT citizens. More recently, SASOD has been partnering with York University in Canada as part of a cross-regional project called "Envisioning Global LGBT Human Rights" to use videography to present the experiences of LGBT Guyanese.
While detractors often argue that these patently bigoted laws are harmless, events of the last decade tell a completely different story, especially for working-class, transgender Guyanese. In May 2006, SASOD became aware of an arrest and prosecution for cross-dressing through a Stabroek News report. Through our community networks, we reached out and found Petronella who was arrested and fined several thousand dollars for this victim-less offence.
Petronella joined SASOD representatives on a live programme on state radio for International Day Against Homophobia and Transphobia on May 17, 2006. In February 2009, there was a more extensive, state-sanctioned crackdown as various sections of the media reported the arrests and prosecution of 7 persons within a 48-hour period for cross dressing. This police crackdown was particularly offensive as the 7 persons suffered a range of rights abuses beyond the arbitrary arrest and detention – including sexual harassment while in police custody and disparaging remarks about their gender identity and sexuality from the then Chief Magistrate Melissa Robertson, who took the opportunity when sentencing to share her gospel of Christ from the bench. In February 2010, 4 of the persons arrested and prosecuted, along with SASOD, filed suit against the state for these unconstitutional violations. On Tuesday last, Chief Justice Ian Chang, sitting as the Constitutional Court, heard full arguments from both sides and reserved the matter for judgment.
Our annual "Painting the Spectrum" film festival, in its ninth year and currently happening, has not only been a site for edutainment, but also spirited discussion and debate, even for those who have never attended. On June 28, 2010, Juan Edghill, speaking on behalf of the Inter-Religious Organisation held at a press conference at the headquarters of the Ethnic Relations Commission, which he headed at the time, condemned our annual LGBT film festival as an attempt to promote homosexuality in Guyana and force the "lifestyle" on young, impressionable minds. That was probably the best publicity the festival ever had. Guyanese who had never come before, including Dr. Rupert Roopnaraine, Mark Benschop and this column's editor, Dr. Alissa Trotz, made the time on the last remaining night of the June-month festival to attend in a show of protest against Edghill's vilification and to demonstrate solidarity with SASOD. But the views of Juan Edghill on LGBT issues are by no means representative of the Christian or wider religious communities. Just recently, SASOD held its fourth annual International AIDS Candlelight Memorial on the steps of the St. George's Cathedral. Pandit Deodat Tillack, who is involved in the Guyana Faith and HIV Coalition, was our guest speaker and he made it abundantly clear that everyone deserves equal treatment before the law and that there is nothing wrong with being lesbian, gay, bisexual or transgender. Up to press time, the head of the Roman Catholic Church in Guyana, Bishop Francis Alleyne, had accepted an invitation from SASOD to attend and participate in a post-screening discussion of this year's feature film, "You Are Not Alone" by US-based Guyanese producer Antoine Craigwell on depression in black gay men, along with psychologist Dr. Faith Harding and other panelists.
Events of the past decade have been nothing short of remarkable for SASOD, and while there have been some setbacks, the willingness of reasonable people to engage on LGBT issues gives us encouragement to continue the struggle for equal rights. Anticipating the Chief Justice's judgment and the special select committee to press ahead with its work, the remainder of 2013 promises to be equally, if not even more, exciting. We hope that every arm of government – executive, legislative and judiciary – can display bold and clear leadership on these issues to fulfill Guyana's human rights obligations to all citizens, and not regress or try to 'pass the buck', as happened at the OAS General Assembly last week. Hope matters, but so does our determination to continue and extend our work and to build solidarity across Guyana, the Caribbean and the wider world.
Around the Web