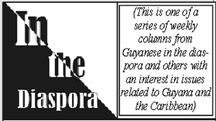 By Sunity Maharaj
Editor's Note: In this week's diaspora column, first carried in the Trinidad Express Newspaper on August 10,2013, columnist and social activist Sunity Maharaj reflects on the struggle to recognise domestic employees as workers. While the article specifically refers to Trinidad and Tobago, the issues it raises are ones that are faced by domestic workers across the Caribbean, who have been organizing across several countries in the region. Two years ago, the Caribbean Domestic Workers Network (CDWN) was launched, with affiliate organizations from Antigua and Barbuda, Barbados, Guyana, Jamaica, St. Lucia and Trinidad and Tobago. This was just a few months after the International Labour Organization (ILO) adopted Convention 189 Concerning Decent Work for Domestic Workers, which establishes labour standards for domestic workers. The Convention was the outcome of years of organizing and lobbying, including by organizations advocating with and for domestic workers in the Caribbean, but it has yet to be ratified anywhere in the region. In Guyana, Red Thread and its network Grassroots Women Across Race submitted a petition with over three thousand signatures to Minister of Labour Dr. Nanda Gopaul, calling for immediate ratification of Convention 189. Dr. Gopaul has publicly committed the Government of Guyana to ratification, reiterating in a recent meeting with the CDWN that this would be done by the end of July.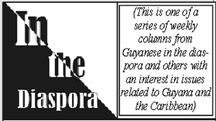 The Co-Convenors of the CDWN are Ida Le Blanc, General Secretary of Trinidad and Tobago's National Union of Domestic Employees (NUDE), and Shirley Pryce, President of the Jamaica Household Workers Union. At its steering meeting in Guyana in July, the CDWN fully endorsed NUDE's decision to organize September 7th as Clotil Walcott Day, in recognition of the tireless efforts of the remarkable trade unionist who founded the National Union of Domestic Employees in Trinidad and Tobago some thirty years ago. September 7th was chosen as it would have been Clotil's 90th birthday. We ask readers to reflect on how the Trinidad and Tobago experience resonates with the struggles of domestic workers in Guyana and elsewhere in the Caribbean for recognition, respect and dignity. We end this week's contribution with a tribute to Clotil Walcott from Red Thread that was written in 2007 when she died, in which members reflect on what they learned from their encounters with Clotil and NUDE. As Ida Le Blanc stated in Guyana in July, Clotil Walcott Day should be recognized across the Caribbean as she remains "an icon for the Caribbean because she was not only concerned about domestic workers in Trinidad and Tobago but she was concerned about domestic workers throughout the Caribbean, she wanted protection for these workers."
*****
While we lift our eyes towards the glass ceiling of female denial, plotting our strategies for smashing it to smithereens once and for all, let us not ignore the eyes peering longingly up at us from under the glass floor beneath our feet where generations of sisters — and some brothers too — remain trapped in a cycle of historic proportions.
The National Insurance Scheme's documented figures of around 10,000 domestic employees, comprised largely of women, is just a fraction of the number employed as household help in this country,  labouring inside as domestics, or outside as gardeners and "yardboys". These hired hands labour so far below the glass ceiling above the heads of the executive class, that not even the laws of Trinidad and Tobago recognise them as workers. And therein lies the agony. For, by not being defined as workers, domestic employees enjoy none of the protections provided to workers under the Industrial Relations Act (IRA), the Retrenchment and Severance Benefit Act and OSHA, the Occupational Safety and Health Act.
Not that we haven't been making the right noises about this state of affairs.
Two years ago, a Trinidad and Tobago delegation, headed by the Minister of Labour, went to all the trouble and expense of travelling to Geneva to vote for Recommendation 201 of the ILO Convention 189 on decent work for domestic employees. It was a momentous event for the International Labour Organisation which marked its 100th session by setting international labour standards for domestic employees for the first time ever.
Naturally, Trinidad and Tobago had no hesitation in going along with the prevailing mood in Geneva. When the vote was taken, our hand was up in support of the ILO's Domestic Workers Convention and Recommendation. It was our statement to the world that we recognised the economic and social value of domestic work and would end the exclusion of domestic employees from labour and social protection.
Back home, Minister Errol McLeod's next step should have been to table an amendment to the IRA to include domestic employees in the list of those defined as workers.
Two years later, if such legislation is in the mill, nobody has yet heard of it.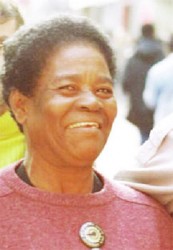 It is startling that an issue which affects so many women and girls who often dare not risk speaking for themselves, could continue to remain so far below the radar in a country with a vibrant trade union movement, a dynamic gender lobby, a decorated labour leader as Minister of Labour and, to top it off, a woman prime minister.
In pressing forward with our individual agendas, it would help to look back and recall that exhortation so favoured by cultural icon Pat Bishop that until we all have crossed, none can cross.
As it stands now, the only legal protection domestic employees enjoy comes through the Minimum Wages Act and the National Insurance Scheme, neither of which addresses retrenchment and severance benefits or conditions of work. Indeed, it is an open secret that many domestic employees risk losing their jobs if they even raise the issue of minimum wage or NIS.
For most, their conditions of work are completely dependent on the compassion of those who hire them.
Respect, stipulated hours of work, annual leave, sick days and severance and pension benefits are perks not rights.
An employee might be fired for being ill and without notice, work unconscionably long hours, and after a lifetime of service, be traded in for a newer model without even a gift much less a gratuity.
The majority are by far women and girls. Sometimes, all the girls in a family work as household help; sometimes, it is the family profession, one generation following another like a dynasty of the lower order, unable to acquire the means to break the cycle.
So debilitating is the culture that the idea that the household help might eventually enhance her skills and branch out and up is almost alien.
This mass of employees at the lowest rung of the socioeconomic ladder is fertile material for investigation by academia, trade unions and gender authorities. Instead, the task is left up to the one group that has been championing the cause of domestic employees for over thirty years, the National Union of Domestic Employees, NUDE.
The late Clotil Walcott would not have missed the irony of her organisation's name, knowing that she was stripping the layers off one of our dirtiest little secrets about the conditions under which so many women labour alone behind closed doors without the protection of even the legal status of being a worker.
Clotil Walcott's work continues today under Ida Le Blanc and Clotil's grand-daughter Carla Walcott, the Grievance Officer at NUDE which exists on the barest minimum of dues.
Fortified with nothing more than the Minimum Wage Act and NIS regulations, NUDE relies largely on moral suasion in mediating disputes between domestic employees and their bosses.
Even with its very tight resources, however, NUDE has begun the very important task of mapping the domestic employee community so that all of us, but especially policymakers, would better understand the sector.
On September 7, on what would have been her 90th birthday, NUDE will commemorate the life of the remarkable Clotil Walcott who devoted her life to building up those for whom the glass ceiling is the floor on which their more privileged sisters stand. Perhaps, to salute this labour pioneer, Minister McLeod will attend and announce a date on which an amendment to the IRA will be tabled in Parliament to recognise domestic employees as workers. At last.
Tribute to Clotil Walcott from Red Thread and the Red Thread Network, Guyana: Tuesday, November 20, 2007
Clotil Walcott inspired us even before we met her. It was her work in Trinidad and Tobago campaigning for domestic workers to be recognized as workers that spurred us on to try to organize with domestic workers in Guyana for fairer wages and working conditions. We invited Clotil to come and meet the domestic workers we had started to meet with and she immediately agreed. When she met with the women she told them and us about her experience organizing with domestic workers in Trinidad and Tobago and advised us to organize. Although we failed in that first effort because we did not know how to overcome the fear the women felt about losing their jobs in an economy where jobs for grassroots women were even scarcer than in Trinidad and Tobago, we learned a lot from Clotil that we never forgot. We are using what we learned from her up to now in our campaigning for a living income and affordable access to goods and services for housewives, domestic workers, shop assistants, security guards, bartenders, old age pensioners, women on public assistance – Guyanese women of Indian, African and Amerindian descent who are unwaged and low-waged.
More than anything else, what we have tried to learn from Clotil Walcott is not to be afraid, not to be intimidated by people – women or men – who have more education and power in society than us.
For us, the work that Clotil Walcott did was the most important work any woman could do. Hers was the work that can transform society, that can help us bring about a world where, in the words of the Global Women's Strike, we "invest in caring, not killing". This is why a few years ago we nominated her for the CARICOM women's award and we still believe that it should be awarded to her. As grassroots women, we want this once-in-a-lifetime grassroots woman recognized!
Clotil, we will always remember you as you were when we met you – no-nonsense, brave, vibrant, bright, energetic, determined. We will always remember you with respect. We will always remember you with love.
Around the Web