We could learn two valuable lessons from Jamaica, in fast-tracking our leap into a 21st century society.
Jamaicans learned how to reach out into the corners of the global village, find the island's accomplished sons and daughters, and partner with them for local development.
Through its amazing embrace of Jamaicans globally, in that exciting synergy between the Jamaican Diaspora and the nation at home, we see what's possible for our Guyanese nation.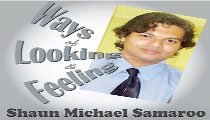 Such a strategy works wonders, as we see in India, China, Hong Kong and other nations. But we need not look so far away as Asia. Our own Caricom sister, Jamaica, is fast developing a global reputation as a rising star, for it knows the value of its global citizenry.
Take Michael Lee-Chin, for example.
Lee-Chin became a billionaire in the investment sector in Canada, and turned his eyes to his native land, Jamaica. His motherland welcomed him with open arms, and today he has significant economic interests there, including in banking.
He is a former classmate of our own Dr Richard Van West Charles when they roomed together at McMaster University in Ontario.
Today, Lee-Chin has achieved the distinction of being an amazing Canadian success story, not only as a Caribbean immigrant, but also as an entrepreneur who conquered the incredible odds to become number one in his field in the world. It is quite an astounding feat.
Quietly, humbly, he serves Canada, where he got his university education and his wealth. But he found a ready home and willing nation in his native Jamaica. And with his heart beating the Jamaican lingo, he stepped up and became his native land's brand ambassador.
In him, Jamaica and Canada partner together in a dynamic economic synergy. This benefits both these societies, but also provides a role model for what's possible for Guyana.
Jamaica today boasts these global role models – Lee-Chin, Usain Bolt, Chris Gayle, and countless others, following in the footsteps of the great Bob Marley.
Over in Trinidad and Tobago, we see Brian Lara and a number of other Trinis conquer the world stage. Barbados boasts of Rihanna, who earlier this month gifted a hospital there over a million US dollars.
St Lucia cradles two Nobel Laureates – Derek Walcott and Sir William Arthur Lewis.
Of course we also produced countless world-class citizens – in Dr Richard Van West Charles himself, a UN health consultant for the World Health Organization, Canadian and Cuban-educated medical doctor, and experienced politician who served as this country's Minister of Health, among other portfolios. Today, however, Dr Van West Charles lives overseas.
We have Sir Shridath Ramphal, who makes his home in Barbados.
Shiv Chanderpaul graces the cricket stage, but as gifted and accomplished as he is as a batsman, he is yet to emerge as the Ambassador of the Guyana brand the way Clive Lloyd did decades ago.
Our nation needs role models, examples of what's possible for us, global brand ambassadors who fly the Golden Arrowhead high in the 21st century world.
Instead we hear of Guyanese achieving notoriety and bad name in Canada, the US and elsewhere. What's the matter with our nation?
Without a doubt, our people lack leadership. The young, the ambitious, the gifted, look out there and see little at home they could emulate.
We could blame poor governance, which is absolutely a crushing problem stifling this nation's potential.
Take the recent fanfare in launching a Guyana Diaspora project, for example. It sounds good and promising and interesting, until one realizes that it is merely a website aimed at developing a job-bank of skilled Guyanese abroad.
The programme lacks vision, strategy or real purpose.
Would we ever see the day when Guyana would produce a Michael Lee-Chin, or a Derek Walcott?
Were we to produce a noble son or daughter of the soil, a great soul out of the bosom of our nation, it may very well be the tipping point for us to be confident and sure-footed to step out and develop that latent Guyanese potential.
This writer sat next to a Canadian-Trinidadian on a flight, and the Trini expressed utter amazement that Guyana looks so backward to the world – even the Caribbean. This man, 65 years old and heading home for Carnival, shook his head in puzzled wonder that "all we hear about Guyana is thieving politicians. I guess they gotta get rid of the bad leaders, and then the country would move forward," he said.
If that's the perception of our nation out there, among the ordinary people of the world, we have ourselves a massive task to brand Guyana as a remarkable nation.
We need brand ambassadors.
Where do we find those? Jamaica points us to the answer – in the Diaspora.
Our Government needs to launch an aggressive, strategic action plan to partner with experts and outstanding global citizens of Guyanese origin.
We must study this move that Jamaica made. We must look for men of character and ethical substance like Michael Lee-Chin, and bring them into the fold.
Instead, we see Clive Lloyd, our most brilliant brand ambassador, co-opted into a controversial cricket imbroglio that divides the nation, scars our international sporting reputation, and leaves our national sport in a state of limbo.
Jamaica today boasts so many global brand ambassadors that the alarming national crime rate, and the continuing bad name that Jamaicans incur in the US and Canada, cannot erase the positive vibes about the tiny island nation. It has become a global nation, known, respected, applauded, in all corners of today's world.
In these two Jamaican strategies – embracing the global Diaspora in a visionary, strategic alliance, and fuelling the rise of Jamaican brand ambassadors like Michael Lee-Chin – the Guyanese nation has an invaluable lesson on the way to rise in the world.
Unfortunately, such an action plan requires Government and political leaders to understand the concept, believe in it, and get it done.
That leaves the Guyanese citizen pessimistic. But these seeds, planted in the minds and hearts of conscientious leaders, could one day bear fruit, and in that we hope.
If Jamaica could learn and act, so could we, for in the soul of the Guyanese nation beats a heart longing for a place of respect and applause on the world stage.
Comments

We now mark the fifth anniversary of this column in this exemplary, nation-defining newspaper, and it's been an inspiring, beautiful journey.

We experience life, see our days, hear emotion and meaning when we interact with others, according to our presupposition, that unconscious window through which we see the world, each person's point of view unique, each one's frame of reference of a different shade than any other.

Our nation's main wealth lies in the human capital of Guyanese; the skills, talents, knowledge, energy, initiative and creativity of each individual.

So easy it is to fall under an oppressive cloud in this society, focused on inconsequential stuff, ignoring the beauty of our human potential.

Word on the streets is that people across this nation react with caution and pessimism to the political backdrop existing in the country.