Guyana's economic improvement over the past 20 years, has seen a striking parallel in the aviation sector where Air Services Limited, has grown to become  Guyana's  largest domestic aviation operator in the country. Started from a dream over 51 years ago by  Mr. Yacoob Ally,a pilot himself, with a single 4-seater Darter Air Commander, the company's growth accelerated under the command of his son Captain Mazahar Ally, an experienced pilot who flies each one of the 22 aircraft in the ASL fleet in addition to the Bell 206 Long Range Helicopter for which he is also a qualified flight instructor.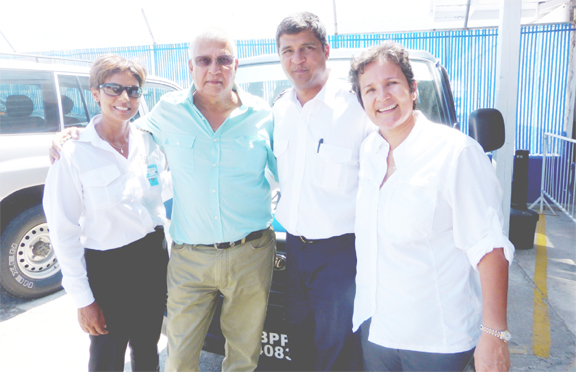 In the early sixties, our patriarch needed to access his timber concessions more readily so he earned a pilot's licence, purchased his first aircraft and constructed airstrips in every concession he owned. A second aircraft was acquired from the Catholic Missionaries and the fleet was further expanded with the acquisition of Inair, with their fleet of three Cessna 206's .
The expansion of the gold mining, forestry and tourism sectors in the 70's and 80's were important drivers for the company's development so twin-engine BrittenNorman Islanders which were at that time considered the work
horses of our fleet were acquired. Another important service provided to the hinterland communities was our partnership with the Ministry of Health in a Medivac programme using the Islander, the only aircraft permitted to fly at night. Hundreds of lives were saved on these emergency flights, and many babies were born on our aircraft.
In June, 2003 ASL started its GCAA approved Flight Training School which boasts a state-of- art classroom complemented by a flight simulator and a training fleet of three Cessna 172's. ASL also founded the Aircraft Owners Association of Guyana.
Another barometer of our growth was the decision made in 2006 to expand and upgrade our service while keeping airfares affordable. This was realized by the importation of the first of our fleet of nine Cessna Grand Caravans. The aircraft's greater payload and passenger comfort superseded that of the older piston-engine aircraft. These aircraft were used to offer scheduled services to the far-flung regions.
In 2010 ASL invested $75 million in building a hangar at Mahdia, from where  an average of 350,000 lbs of cargo per month is shuttled to airstrips in Region 8. This operation provides an invaluable lifeline to those remote communities.
In 2011 ASL invested in its own fuel farm which is supported by a fleet of seven fuel tankers. We look forward to providing refueling services for both local and regional aircraft.
In 2012 on the cusp of even further growth propelled by high gold prices and the potential of high expectations for the petroleum industry, ASL was granted permission to add helicopters to its operations.
Even as we celebrate 100 years of Aviation in Guyana ASL has set another pioneering record as the first locally-owned and operated commercial helicopter service provider.
As we celebrate our 51 years of service,we remain committed to the development of the vibrant and growing aviation industry.
Around the Web