From the pioneering work of aviation stalwarts like Arthur James "Art"Williams and Colonel Herman Edgar "Harry" Wendt to the current initiative to transform the Ogle aerodrome into the country's second international airport, the aviation sector in Guyana owes its growth and development to the cumulative contributions of groups and individuals who possessed the vision and foresight to recognize the role that aviation would come to play in the development of Guyana. Perhaps more importantly, credit is due to those who invested their time  and resources and in some instances  risked  their lives in that pursuit.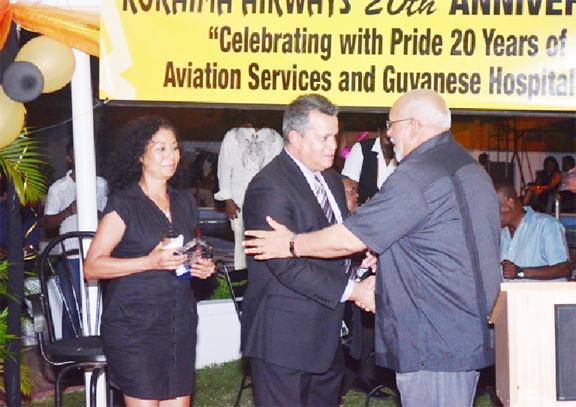 It is with a considerable measure of pride that Roraima Airways takes it place alongside those other institutions and individuals who brought the aviation sector to the juncture at which it stands today.
"Ours was a humble beginning. Our growth, however, has been rapid and our contribution to the sector has been multi-dimensional. Our efforts over the years to continually strengthen the tourism sector are a matter of public record while our often dangerous night-time medivac flights that have saved lives amounts to an outstanding example of national service in the finest tradition."
Created in November 1992, Roraima was originally envisaged as a modest domestic airline to the needs of those other economic sectors that were inextricably linked to the hinterland of Guyana, particularly the mining, logging and tourism industry. Indeed, there are those who argue that by  providing a viable, cost-effective travel option to hinterland investors in those sectors, Roraima, as part of the aviation industry, contributed immeasurably to the growth of the country's economy.
Apart from hinterland travel Roraima Airways played a valuable role in sustaining social and economic contacts between Guy-ana and countries in the Caribbean and South America to which it flew regular charter flights.
Roraima Airways' great fortune reposes in the fact that from its inception it benefited from the industry-specific skills as well as the dedication of Captains Gerry and Debbie Gouveia, two internationally trained pilots whom, over the years, have also proven themselves  to be capable business managers and enterprising entrepreneurs. Both have embraced corporate social responsibility  as the cornerstone of the company's development.
Over a remarkably short period of time Roraima 'graduated' from renting aircraft to acquiring its own fleet which included a Bell 206 L3 Jet Ranger Helicopter, an Executive Cessna 402  and three Islander STOL Aircraft.
The  vision of the company's Chief Executive Officer has ensured that Roraima has not been confined to being simply 'another air transport service.'  Roraima's role in moving both Guyanese and visitors to some of the most attractive places in Guyana attests to its commitment to energizing the tourism industry.
Over time Roraima Airways has also established a  modern aviation infrastructure that includes a ground handling and aviation security service at the Cheddi Jagan International Airport, Timehri as well as a high end departure passenger executive lounge complimented by an approved crew resting lounge.
Other services include its IATA-certified International Travel Service at its multi-purpose Bel Air Park Complex.
Roraima's place of prominence in the local aviation industry derives from a reputation that centres  around safety, reliability and dependability. The services which the company offers to the tourism sector requires of Roraima skills and talents that go beyond simply providing an air travel service. What we do embraces many more sectors. We belong to a small, unique band of determined investors who currently occupy the Ogle Aerodrome with the aim of transforming it into a modern airport. That process is well underway.
Naturally, we take immense pride in joining with the rest of the sector in marking the centenary event. We are proud to have been part of the foundation and pledge ourselves to continue to contribute to the building of a worthwhile industry.
Around the Web