Two women, Deandra Grenville, 22, and Grace Ramrekah, 53, were today arraigned on attempted murder charges stemming from the attack on Industry resident Linda Phillips, who was stabbed in her home last week by two persons pretending to be on a medical outreach.
It is alleged that on October 3, Grenville, 22, a student of the University of Guyana, unlawfully and maliciously wounded Phillips after she was reportedly contracted by Ramrekah. Grenville had allegedly told police that Ramrekah had promised her the sum of $130,000 if she killed her ex-lover's current girlfriend, Phillips.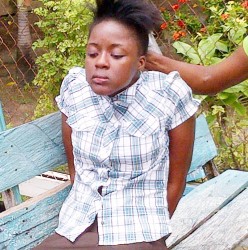 Grenville and Ramrekah, who both reside at Lot 25 Princes Street, Wortmanville, were not required to plead to the charges when they were read to them by Magistrate Alex Moore at the Sparendaam Magistrate's Court.
They were granted $175,000 bail each by the magistrate, who set the next court date as November 15.
Attorney James Bond represented Grenville, while attorney Sanjeev Datadin represented Ramrekah.
Phillips is still hospitalised nursing five stab wounds to her back.
She has alleged that Grenville posed as a medical student to gain entry into hers home along with a male accomplice. Phillips said the young woman held her down while accomplice inflicted the stab wounds. The second suspect in the attack has still not been captured.
Around the Web