The National Drama Festival will continue this year with new plays in the move to revive the dramatic arts throughout the country, Permanent Secretary of the Ministry of Culture, Alfred King revealed yesterday, as last year's winners received their cash awards.
The presentation was held in the ministry's boardroom with a host of Guyanese writers, actors and dramatists in attendance. King said the ministry is working to modernise and enhance theatre production in the country. He pointed to the imminent opening of the first drama school in the country, where aspiring dramatists and writers can attend and earn certificates and degrees in theatre arts.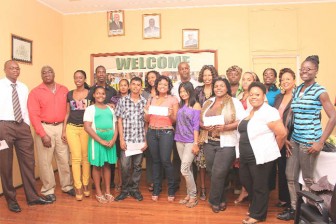 "Very often it is very difficult to sustain the business sector of these arts. And we want to make drama not only an art but also a business," King said.
He went on to say that the ministry is embarking on projects that will establish drama in the country, hence the drama school. He hopes that the establishment of the school would encourage Guyanese writers and actors to step out into the light and engage their talents.
Noting that it was difficult task to sustain the arts, he lauded Digicel for joining the ministry to rescue the industry and said it was imperative that other private sector agencies do the same.
He said it was the hope of the ministry that all Guyanese artists are able to express themselves.
King said the festival had exceeded his expectations and he was astounded that 42 plays were entered; 38 of which were staged and judged. He emphasized that there were 500 young artists who performed in the competition.
He also said that the ministry was setting up a committee to manage the festival and to ensure that the weaknesses and shortfalls of the last festival are not repeated.
Jacqueline James, Head of Marketing for Digicel, indicated that Digicel was dedicated to the development of theatre arts in Guyana and also to the strengthening of Guyanese youths and talents. She said she was glad the ministry was working to develop a drama school in the country adding that such a venture would be a breeding ground for talent in the arts.
Cash prizes were awarded for best original Guyanese play in the junior category, the best debut production category, the best full-length original Guyanese play and the best production for 2012.
Around the Web