It has been more than two weeks since Guyana Energy Agency (GEA) staffer Levoy Taljit went missing and the police have since held one suspect, but appear to be no closer to finding the man.
A senior police official told Stabroek News that the suspect was held after officers received certain information which they thought might have led them to Taljit.
However, the official revealed that while the suspect was questioned, no substantial information was gathered that could provide a clue as to Taljit's whereabouts. It was further stated that during questioning, the suspect made no confession with regard to being involved in Taljit's disappearance, and neither the cell phone records nor the vehicle which was recently found on the highway pointed to the suspect.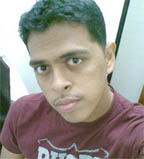 On December 27, police discovered a Toyota Raum, which was later identified as Taljit's vehicle. It was open and had been vandalized. Missing articles included a CD player and what was believed to be a GPS device. Investigators examined the vehicle but were not able to find any fingerprints or clues which would lead to finding the missing GEA Field Manager.
Taljit had been scheduled to go to the supermarket with his mother just hours before he went missing.
When this newspaper made contact with Taljit's father, whose name was provided as '"Basil', he related that on Thursday he and his family received the news that a suspect in connection with the case of their missing son was in police custody and had confessed to selling his BlackBerry cell phone and hiding his vehicle.
Basil further stated that he also learned from the police that they had traced a number of calls to Taljit's phone, which led to the suspect's location and an arrest was made. The concerned father said that since the arrest of the suspect, the family had not seen the person in question nor did they know him prior to the incident.
Basil said he was very concerned about the suspect being released from custody and his son remaining missing with no evidence to find him.
A close associate of Taljit said they had received information that the suspect had told police he last spoke to the missing man about a week ago, at which time he had revealed that he was in Suriname.
When this newspaper asked Basil about the possibility of his son being in Suriname, he said "I doubt he would be in Suriname." He revealed that his during his son's time at GEA he was on probation and made trips to Essequibo and Berbice as well as a trip to Bartica one week before he went missing.
"I want to see you back. The whole family want to see you and want you come home," Basil said in a message to his son.
Relatives and friends are hoping Taljit will be found safe and alive and are pleading with anyone who might have information leading to him being found to contact telephone numbers 226-0433, 226-7336, 666-4012 or the nearest police station.
Around the Web