Roger Hinds with his song titled `She Roll' took the Chutney crown from Haresh Singh on Saturday night at the National Cultural Centre, according to the Government Information Agency.
Sixteen artistes entered the 2013 Chutney finals.
Fiona Singh, moving one step up from last year, clinched the second spot with her song `Jam' and Haresh Singh, the defending monarch came in third with his offering `Samantha', GINA said.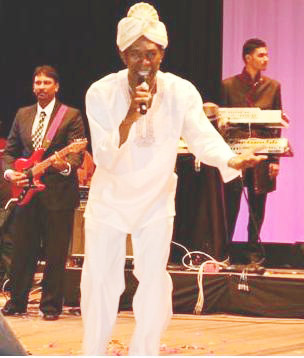 As they competed for the National Chutney Monarch crown they were also vying for the chance to represent Guyana in Trinidad and Tobago at the International Chutney Soca Monarch competition on January 26.
George Singh, Producer of that competition was there to witness the Guyana finals, GINA said. Hinds will now represent Guyana at the Trinidad contest.
GINA said that the other finalists were Denis Tatpaul with `Mashramani Time'; Dennis Damar Singh with `Ban Karila Romal'; Harvey Gobin with `Dularie Gal'; Joyce Harris with `Mashramani Fever'; Rajesh Dubraj with `Come leh we sing and dance'; Suraj Narine with his song titled `Plenty Fire'; Pooran Seeraj with `Jheera'; Norman Seeram with `Hay Mamee'; Paramdai Willie with `My Guyana Chutney';  Joel Pharous with `No Curfew'; Steven Ramphal performing `All de gals';  Padmawatie Narine with "I am just a young girl wanting to get married' and Aamir Khan with  'Big Time Lover.' The finalists were backed by the Shakti Strings Orchestra, GINA added.
The competition was sponsored by the Ministry of Culture, Youth and Sport, which GINA said has for quite a number of years had difficulty in getting sponsors on board.
Culture Minister Dr. Frank Anthony commended persons who help sustain and preserve chutney music in Guyana, GINA reported.
He said that the standard of the event keeps improving annually and based on the performances during 2012, a number of competitors have already gained contracts to perform outside of Guyana.
Around the Web