Police and firefighters last night teamed up to save the Ministry of Culture's wooden Annex Building on Middle Street from being destroyed by a fire of electrical origin.
The fire started around 9 pm and it was the police who first alerted firefighters after receiving a call from the security guard who was on duty at the building at the time, Fire Chief Marlon Gentle told reporters.
He explained that four fire tenders promptly responded, two from the central fire service Stabroek, one from Albertown and one from West Ruimveldt.
When Stabroek News arrived on the scene two fire tenders were arriving and with the assistance of the police, the firefighters used the passageway of a building on the eastern side to gain access to the building. There, they mounted a ladder and armed with an axe broke a window and began dousing the flames which originated on the second floor. "When they got here the building was heavily smoke logged on the first floor and there were small amount of visible flames in an area," the Fire Chief said.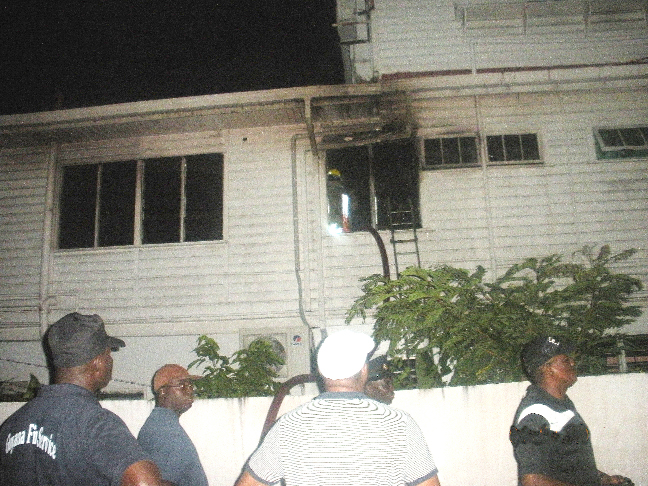 Simultaneously the police began to cordon off the area beginning first with the entrances to Middle Street from both Main and Carmichael streets. They then uniformly secured the Ministry of Culture, Youth and Sport building preventing persons from entering as they could be heard briefing their superiors via radio set. "Firefighter operations of course the response tonight was good it was real robust and we were able to achieve great success," added Gentle.
Minister of Home Affairs Clement Rohee, President Donald Ramotar and Minister of Culture Youth and Sport Dr Frank Anthony arrived on the scene at separate times and were briefed by the Fire Chief.
The Fire Chief told reporters that the fire appeared to have started in an air conditioning unit. "Firefighters managed to enter the building and they were able to isolate the flames to a room. We discovered where the fire started…it started from an air conditioning unit …It is still dark now so we have to some more assessment tomorrow to what is the real damage and impact of this fire," he said.
The minister said only a few files were damaged by water in the Department of Sports and President Youth Award Republic of Guyana (PYARG) departments, not so bad to affect operations. He, aided by firefighters, was able to access the building after the fire was out and smoke subsided. "…From what I have seen the area that has been damaged we can easily fix that up," said Anthony.
He also praised the timely and effective work of the firefighters in saving the wooden building that previously housed the Carifesta Secretariat."I would really like to commend the fire service you can see the building is a wooden building. Perhaps if they didn't respond in a timely manner…" said Anthony.
Around the Web