A 61-year-old security guard of Bloomfield, Corentyne who was on duty at the Iskcon Sri Sri Radha Gokula Chandra Mandir at Block 6 Williamsburg was discovered dead around 3 o'clock this morning.
The body of Jagdat 'Ronald' Ramcharran was found on the porch of the mandir with the hands and feet bound and a cloth tied tightly around the neck.
A member, Tulla Persaud Udit told Stabroek News that so far one pair of pure gold 'murti' slippers, a bell and tape recorder were missing. The bandits cut open a grill to gain entry to the building and ransacked it.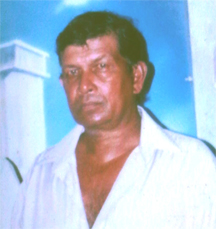 Udit who is in charge of security said police were conducting investigations and after that they would be able to determine if anything else was stolen.
He said he suspected that "drug users" from the area "had done the act" and that Ramcharran who worked there for the past three years, met his demise after he apparently put up a fight.
According to him, members were at the church all day yesterday and the watchman went there from 6 pm. He said a "pujari," Suratanauth Prabhu, 57, went there to worship, discovered the body and called him.
Prabhu told this newspaper that the watchman would normally open the gate for him. He said he kept calling for him and after he got no response he "assumed that he was drunk and sleeping."
It then started to rain and he became anxious and asked two men who were watching cows nearby to assist him to get over the gate.
When he saw the man tied up and motionless, he said, he "got scared."
According to Udit, last year a drug user entered the madir and stole "brass murtis" worth $100,000 and they announced that a reward of $10,000 would be offered for the items.
He said the man returned them and members decided not to get the police involved. At other times "artificial jewellery" was also stolen.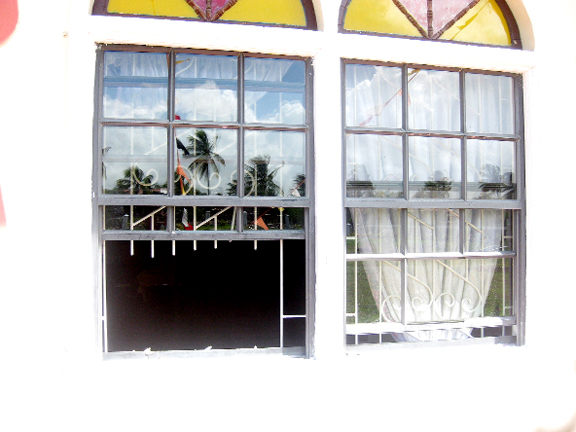 Udit later told this publication that the prime suspect was on the run and no one else has been arrested in connection with the murder and robbery.
Meanwhile, Ramcharran family was shocked to learn of his death.
When Stabroek News visited the man's Lot 15 'B' Bloomfield, Corentyne residence yesterday preparations were being made to set up a wake.
His wife, Devika Ramcharran, 58, told this publication that a neighbour had called her and told her that something had happened at the temple where her husband worked.
She said when she and her son arrived at the scene she was unable to see her husband, since the police were there and had begun their investigation.  Nevertheless, her son Robindra, 25, was able to view his father's motionless body.  The young Ramcharran said his father was tightly tied up and it appeared that he had put up a fight with the bandit[s] before he lost his life.  He also said that a crescent (spanner) was next to his father's head and his flashlight was broken.
When asked what type of person his father was, the young man burst into tears. He said his father was a very generous, good and kind person who never had any interfered with anyone.
The body is currently at the New Amsterdam Public Hospital mortuary awaiting a post-mortem examination, which would be performed during the week.
Around the Web