More than two weeks after her throat was slashed and she was stabbed multiple times by her husband, a 22-year-old Bartica nurse says that the authorities are not moving fast enough to charge the man—a prison officer—and she wants the process to be sped up because she feels unsafe.
The violent attack on December 23 at the Mazaruni Prison has left Stephanie Sampson fearful for her life and barely able to use her hands. "When I ask anybody, they say he is military, so it takes time," the woman told Stabroek News yesterday, her wounds still visible though healing.
Her throat was slashed, she was stabbed six times in the left breast, once to the right breast, one time in her left arm and she also sustained several cuts on her hands as she tried to fend off the knife used in the attack. The matter was reported to the Bartica Police Station but the man was released on $75,000 station bail and since then someone claiming to be his cousin has sent menacing text messages to her, she said.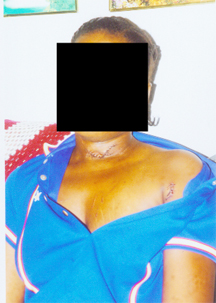 Sampson and her husband, who were married for eight months, lived in the compound of the Mazaruni Prison and she related that on December 21, when she arrived home from work at the Bartica Hospital, she asked him whether he had cleaned the bathroom and toilet and he said because of work he had not done so. Sampson recalled that she then told him to relax and she would do it but he began accusing her of having an affair and said that persons had told him about it.
The woman said that subsequently her husband called her mother. "He tell me he is nah no robot and he work whole day," the mother related. As the man was speaking with her mother, Sampson said, she pulled out her Blackberry phone and said that she would call her mother but the man grabbed it and pelted it into the wall and it broke and she started crying.
Later in the night, she said, her husband began drinking alcohol and smoking and again began accusing her of having an affair. "He come upstairs, pull out a Rambo knife and seh 'when a man is under [the influence of] alcohol he can do anything,'" Sampson recalled. She said she managed to pull the knife away from him and hid it. He then asked her for forgiveness, Sampson related.
Two days later on December 23, when her husband returned from work, he again began accusing her of having an affair. Sampson said he went upstairs at about 10.30 pm. "I feel he wan look for the knife," she recounted. After he did not find it, he returned downstairs and went to the kitchen and grabbed a cooking knife. He then turned the volume of the music up and started stabbing her. He aimed at her left side breast, she said. "He trying to get me heart….after he ain getting through there, he come to me neck," she recounted.
Sampson said that she struggled and tried to escape but her shouts were drowned out by the loud music. "I try to turn down the music and he keep stabbing me still and nobody din hear," she recounted. "I telling he to 'stop, stop. Carry me to the hospital I gon forgive you and tell everybody I stab meself'," she recounted.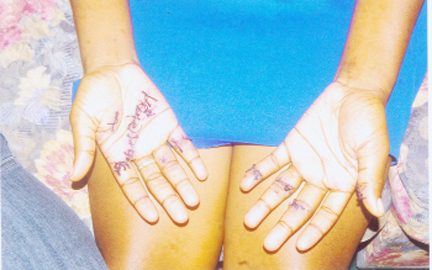 She said she told him that because she was fearful that he was going to kill her. "Then he give me the knife now to stab he. I seh 'no, no. Carry me to the hospital'," the woman recounted. "He seh leh we waltz. I tell he 'no, no, carry me to the hospital'," she recalled.
Sampson said that by this time she was bleeding badly and both their bodies were covered in blood. "He carry me to the kitchen and throw water from me neck come down. He trying to wash off the blood," she said.
'…Thought I woulda dead'
Sampson said he carried her outside and they called the Officer-in-Charge (OC) of the prison but only his wife was there and she summoned the OC and the medic who were in Bartica. Sampson said that to prevent her husband from further attacking her, she told the captain's wife that she had stabbed herself. "He was right there. I scared. I thought I woulda dead," she said.
The woman said when the boat arrived, she was rushed to the Bartica Hospital. She said that by this time, the OC had informed the police and she was met at the hospital by two ranks. She said that as soon as the OC arrived and she was sure of her safety, she told the OC that it was her husband who had attacked her and he recorded the conversation and photos were taken. She also gave a statement to the police who also had the hospital fill a medical form.
Her husband, Sampson said, denied that he attacked her and told police that she had stabbed herself. "If I ain know to talk, I woulda dead," she said. The woman said that when the police went to the scene, her husband gave them the knife that was used in the stabbing. She said that he has told others that she stabbed herself and some believe him but she wants them to know that this is not true. "I didn't do this to myself because I am not a mad woman… I respect myself and I value myself and I hope I have justice," she asserted.
Sampson said that it was not the first time that her husband used violence. She said that in June, he physically abused her and the matter was reported to the police. She said that he begged her family and his relatives also begged her to drop the matter and she eventually did and forgave him. "Is like every time we getting problem and I keep forgiving he but now he try to kill me and I can't forgive somebody who try to kill me," she said.
The woman said that after the December 23 attack, he called her mother and among other things, told her that Sampson tried to stab herself. Since then she saw him in a supermarket in Georgetown and he attempted to speak to her mother to ask her how Sampson was doing, she said.
Sampson said she has not seen any further action from the police thus far. She said she was also not sure whether her husband was still on the job. The woman said that when she spoke to the OC, she was told that the file would have to go to the Director of Public Prosecutions before the prison officer could get dismissed. "They seh that because he is a military man, the DPP gotta send down some file," she said.
After spending a night in the hospital, Sampson said, she went home to Berbice and a nurse there looked after the sutures. Her wounds are slowly healing but her life has changed, she said. "I can't really do anything for myself…I feeling so much pain in the hand because of how it cut and I really can't do anything," she said.
Around the Web