Veronica Hendrax, wife of former Rose Hall Town mayor William Hendrax died yesterday at the New Amsterdam hospital.
The 79-year-old woman, who had been brutalised by bandits who broke into the couple's home and robbed them, died around 08:15 hrs yesterday. According to her daughter Ursula Fraser, they were waiting to see a doctor, when the matron of the hospital came and told her and her husband that her mother had passed away. Fraser said she had last spoken to her mother earlier yesterday morning.
Fraser said her mother never got well after the incident, which had placed her in poor health. Mrs Hendrax had spent four days in the St Joseph Mercy Hospital in Georgetown and was a patient at the New Amsterdam Hospital where she was in a very critical but stable condition until the time of her death.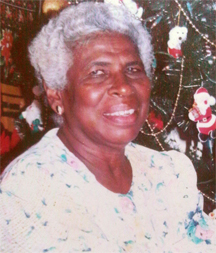 Meanwhile, her husband, the 81-year-old former mayor, called "Papee" is experiencing heavy mood swings as a result of the trauma of the robbery. His daughter told this publication that he was having thoughts of suicide and at times he would speak to them and then another time he would shout at them or not speak to them at all.
Two days before Christmas day 2012 around 1.30 am three men broke and entered the home of Hendrax, demanded cash and jewellery and brutally beat the couple.
The elderly couple was alone when the incident occurred.
The bandits escaped with an undisclosed amount of cash and jewellery after the approximately 30-minute ordeal.
Some time later, Mrs Hendrax was able to contact her daughter who works at Albion and she took her parents to the hospital and made a report to the police.
Stabroek news understands that one of the bandits was masked while the other two were not.
Up to press time no one was arrested over the robbery.
Hendrax leaves to mourn her husband, sons and daughters, brother and sister along with other relatives and friends.
Around the Web