Work is said to be advancing rapidly on the Marriott Hotel in Kingston, with the substructures taking shape as workers of the Shanghai Construction Group execute works on what will be a nine-storey structure.
A press release from the Government Information Agency yesterday stated that Construction Manager of the Marriott Hotel, Romesh Budhram gave a time for completion of the main building as May this year. He said the complex will house the main structure, an administration building containing offices, and banquet hall on the eastern side, and a separate building to the west containing a specialty restaurant, nightclub and casino.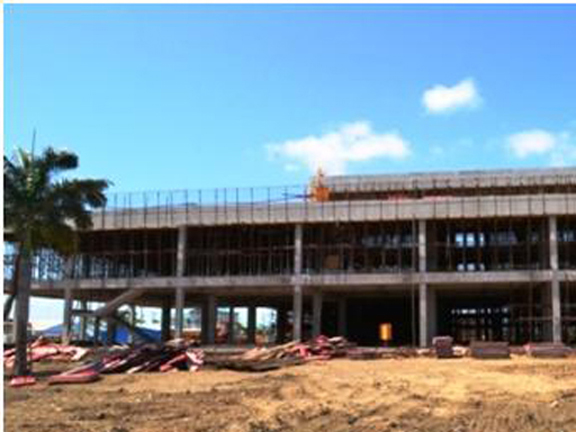 He told GINA that tenders for the casino, restaurant and nightclub are due to be finalised by the end of February.
GINA reported that the interior décor is still to be finalised and the Marriott team is keen on having a South American/Caribbean theme as part of the hotel's identity. "The Marriott's management is in constant contact with local counterparts to ensure that the project meets or exceeds its already high standards," GINA quotes Budhram as saying. "The most important thing for them is the construction of the sample room, and once this is done, everything will fall into place very quickly as we will be sure that we are on the right track," he noted.
GINA said that the Marriott Hotel project is part of five-year plan which will significantly boost the local economy and provide 250 jobs for Guyanese.
It said that 140 Chinese workers are currently engaged in the construction project.
GINA said that Budhram was loud in praise of the quality and pace of work being executed. He said that given his experience internationally, the work  will ensure that Guyana will be proud to own one of the finest five-star hotels in the region and further afield.
The hotel has generated much controversy with the opposition decrying the use of state funds for the construction, arguing that if it was a viable project it should be fully private sector-funded. The opposition has also demanded to see a feasibility study.
Around the Web