The body of a male commercial sex worker was found this morning behind the Carnegie School of Home Economics with stab wounds.
The body of 19-year-old Wesley Holder of  Werk-en-Rust was clad in a green fishnet dress and it appeared as though rigor mortis had set in, an indication that he had been dead for some time. Police had cordoned off the spot where he was and were on the scene carrying out their investigations.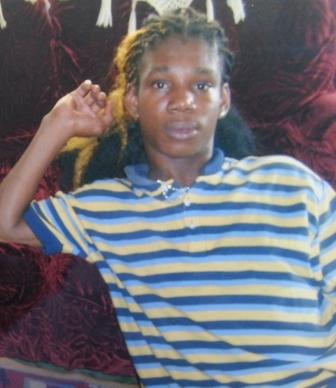 "Last night when he was leaving to go on the street about 19:00 hours I told him not to go. I asked him where he was going and he said he didn't have on makeup, meaning that he was not going to work on the streets. He had on a slippers and this net thing that he had on. I know that he don't go on the road [looking like that] so it was surprising," said his aunt Paula Niles.
Niles said that he normally comes in about 23:00 hours. "Sometimes he would say that the road hard and he would come in. But he didn't come," she said, crying.
"This morning around 06:00 hours I wake up and I found out he was not home. We went to the station to see whether he was there locked up, whether he was in a fight or what. When we go we heard he was not there. I now studying where this boy is because I know that this time he don't be on the road. He does be home," she said.
"Yesterday morning is I wake he up. Yesterday too another gay come with some thiefing blackberry phone they had by St. George's where they does deh doing they nonsense. They come early and I told them [not to involve my nephew in that]. He is not a boy does be in story. He does go on the street and do he nonsense with them man. That is all I know bout. I don't know why they kill he," she said.
Around the Web