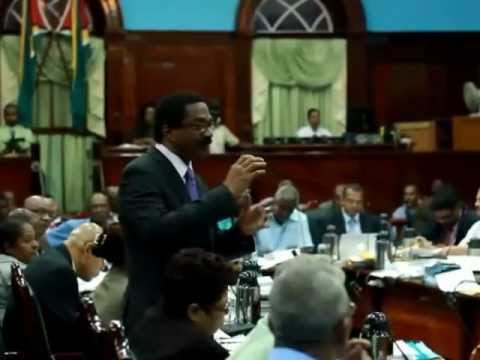 The Opposition yesterday allowed the passage of Financial Paper 6/2012 in the National Assembly even as they had concerns that the explanations for the expenditure were inadequate and that the requests did not meet the qualifying 'emergency and unforeseen' criteria for supplementary provisions.
The two financial outlays totalled $2 billion and covered $500 million for the Ministry of Agriculture and a $1.5 billion for the Ministry of Housing and Water.
The allocation for the Ministry of Agriculture was a provision sought to meet expenditure associated with flood management and water control.
APNU Member of Parliament, Carl Greenidge asked Minister of Agriculture Dr Leslie Ramsammy what their plan for flood control was with regard to the spending of the monies requested.
Minister Ramsammy responded and said that the Ministry would have to sometimes deal with flooding and drought conditions in relatively short spaces of time, resulting in difficulties in foreseeing the need for expenditure. Further, he said that this request is also as a result of not being allocated all of the money the Ministry sought from the Ministry of Finance at the beginning of 2012.
Ramsammy said that the NDIA has been making requests of the Ministry of Agriculture to boost their fleet of heavy machinery to carry out works. "This request is to support the Ministry's meeting an expenditure of $500 million to the NDIA," the Minister said.
Greenidge then asked the Minister whether he was aware of the criteria for expenditure being requested from the Contingencies Fund. Greenidge was of the view that the nature of the request did not seem as something unforeseen or unplanned.
Ramsammy however continued to insist that the weather conditions make it difficult to be accurate in planning ahead for responding to flood and drought conditions.
Greenidge made it clear that APNU wanted to see documentation on the expenditure and when it came to the vote, APNU voted against the request. However the item was passed since the Government and the Alliance For Change (AFC) voted in support of it.
With regard to the allocation in the amount of $1.5 billion, Greenidge asked Minister of Housing and Water Irfaan Ali about the nature of the emergency which warranted the request from the Contingencies Fund. Ali said that the funds are to cover development in the housing sector from 2013 to 2017. He said too that the need for the request from the Contingencies Fund arose because the Ministry of Housing and Water did not get all of the funds it had requested from the Ministry of Finance at the beginning of 2012.
Ali said that the money would have been used to develop new housing schemes in Regions 3, 4 and 6, benefitting 2,525 households or more than 10,000 people. Further, he said that Tuschen, Parfaite Harmonie, Diamond, Golden Grove, Mon Repos and Non Pariel will see infrastructure works that will benefit some 17,000 people. The allocation was passed, supported by all members of the House.
Around the Web