The Bee Hive, East Coast Demerara main access road, which serves five communities, has been in need of urgent repairs for a year and villagers are demanding action.
The residents yesterday complained to Stabroek News that they were displeased that the government has been building substandard roads, noting that although their road has been repaired several times over the last year, after a few months it would crumble.
"They need to stop this thing. Look this road. It has a three feet deep hole in the middle and they say they [spending] so much money to build roads and this is what we get: half-way work," Carolyn Halley, a concerned resident told this newspaper.
She said that the government has shown meagre interest in their plight.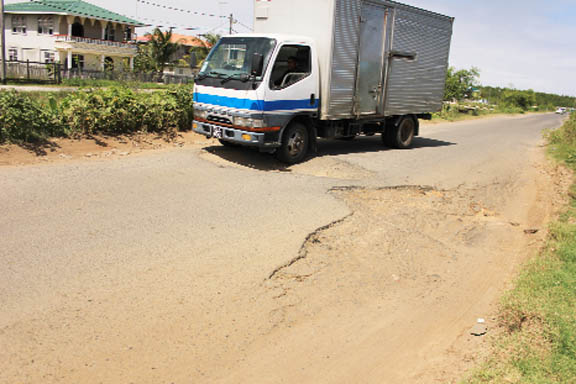 "Them ain't doing their job properly. They ga fix the road and clear the drain up. That's what Bee Hive need. We need a road. Look everybody ga come through that one road and the potholes big big," another resident complained.
The main road serves the five villages of Bee Hive, Ann's Grove, Clonbrook, Two Friends and Dochfour. Villagers complained that when there is heavy rainfall the potholes would fill up and cause chaos for them and vehicles.  "When the water full up the holes they look like trenches and the vehicles would ga drive far in the corner to stop water from lashing people but they also putting themself in trouble cause the trench deh right next to the road," another villager said.
"This local government is a failure. They are not doing anything for this community. The road needs to be fixed and no one has come forward to fix it. There is no proper system in place to manage the building of roads. We know what we want they don't so why don't they ask us?" a villager added.
Around the Web