Five Guyanese who were held in St Vincent and the Grenadines last year October pleaded guilty on January 4th,  2013 to having tools which could be used to commit burglaries.
The Vincentian on Thursday  said that four men: Rizan Mohamed Meerza, Kevin Orindio McLennan, Aslam Kayum, and Davendra Singh pleaded guilty. The guilty woman is Savitrie Sookraj.
They will be sentenced by Senior Magistrate Sonya Young on January 16. Two others,  Surenda Sookdeo and Gangadal Budram, who were also held last October were acquitted.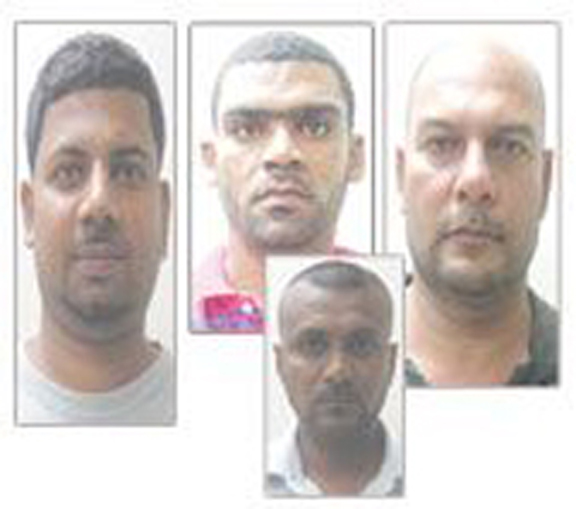 The seven faced three charges, but the prosecution, led by Inspector Adolphus Delplesche, accepted the guilty pleas, having dropped two of the charges against the visitors, The Vincentian said.
The seven arrived on different LIAT flights that Sunday and stated their intention of spending a holiday here. It was not until they raised alarm bells by not knowing where they were going that their operation became of concern to law enforcement officers.
The Vincentian said that included in the visitors' luggage were drills, saws, silicone gel, five bits, one yellow cutting blade, and three screw drivers. Solder machines, cables, a Samsung cell phone and charger, X-ray Paper, extension cord, scissors, magnifying glass, a counterfeit detection pen, 314 data cards, two scanners with cameras, and a Toshiba Laptop were also in their possession.
Inspector Delplesche told the court that one of the accused men, Davendra Singh, returned from French Guiana and linked up with his colleagues in Guyana. Delplesche said that the mission was to plant the camera and scanning equipment to the roof of ATM machines.
He charged that information would have been gathered from cards used by patrons to the institution.
The accused face up to three years in prison for their crime, The Vincentian said.
According to information from the Police, the seven are of interest to security forces in other jurisdictions.
Around the Web