A man, said to be of unsound mind, was yesterday electrocuted near the Stabroek Market, after he tried to pick up an energised cable.
Up to press time, the electrocuted man, described as a vagrant, had not been identified and his body was at the Georgetown Public Hospital (GPH) mortuary.
He was also said to be  mixed  and in his mid-thirties. Another person who had been hit by the cable also suffered burns and was admitted to the GPH's Burns Care Unit.
The incident took place at about 12.30 pm, moments after the cable was ripped away by a passing truck, eyewitnesses said.
The truck, which had a number of articles on its tray, turned from Croal Street into Cornhill Street and became entangled with a guy wire (cable), which burst and fell to the ground.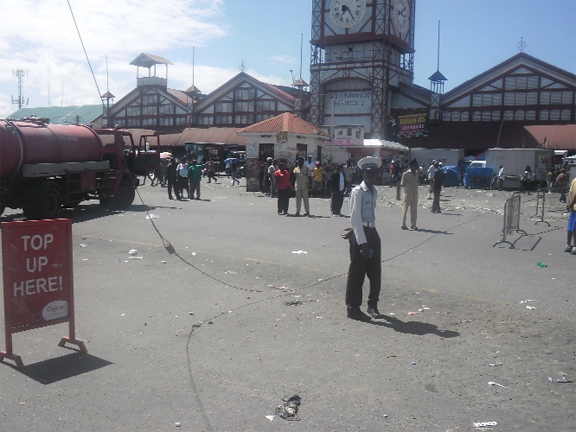 A press release from the Guyana Power and Light Company Inc (GPL) noted that part of the "overhead guy wire" which burst and fell onto the ground, was in contact with one of the 13.8KV feeders. As a result, the wire became energised.
A vendor in the area said that after the wire fell, the now dead man walked over and picked it up. He was immediately hit with over an estimated 10,000 volts of electricity.
Persons were seen running frantically away from wire, which was left lying across the road. Quick response from the Guyana Police Force Traffic Department saw vehicles being diverted in other directions.
However, this caused snarled traffic along America Street and Avenue of the Republic. The Route 40 (Kitty/Campbellville) minibus park became congested with a number of cars and buses trying to turn around and head away from the danger area.
GPL said the guy wire fell onto a few persons who were in the vicinity, causing injuries to at least one of them.
Around the Web