Suriname's Ambassador to Guyana Dr. Manorma Soeknandan has ended her eleven-year posting, proud of the good relations between the two countries and optimistic about the state of diplomacy, the Government Information Agency (GINA) has reported.
The outgoing ambassador met President Donald Ramotar to say farewell on Thursday, after being honoured by the Ministry of Foreign Affairs at a reception earlier in the day.
"When you look at the economic, political cultural, relationship (between Guyana and Suriname) you can see that it has increased tremendously but also that it has taken more depth," Ambassador Soeknandan said in an invited comment to GINA.
With the United Nations Convention on the Laws of the Laws of the Sea (UNCLOS) arbitral tribunal award putting to rest a seven-year maritime row that marred the two countries' relationship, a resolve to build on trust initiatives became a priority, GINA said.
Relations deepened after a change of government in the Dutch-speaking country saw the new Desi Bouterse administration working with the Guyana Government on the border commission to build on trust between the two nations and cooperate on law enforcement, agriculture and other areas.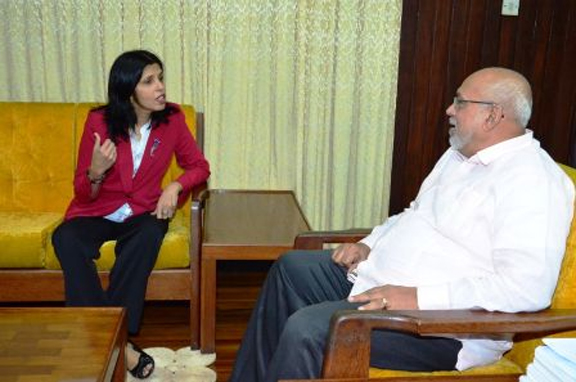 A visit by President Ramotar to Suriname in February last year, led to discussions on bilateral relations, security, climate change, Caricom, and a feasibility survey for the bridging of the Corentyne River which separates the two countries.
Guyana's Minister of Foreign Affairs and her Surinamese counterpart, Winston Lackin have been at the centre of talks in this regard, acting on instructions of Presidents Ramotar and Bouterse for a meeting of Foreign Affairs officials of both countries at least once every six months.
GINA quotes Dr. Soeknandan as saying, "We are neighbours and… people to people contact is very important… if we want to prosper, have economic advantages etc for both countries, I think it's important that the people to people contract deepens."
With similarities in mining, agriculture and geography, Ambassador Soeknandan is also optimistic that the two countries can play a key role in development within the Caricom region.
The native of Paramaribo, who earned a law degree from the Anton de Kom University of Suriname in 1989, said her successor will be announced shortly, but her tenure as Suriname's envoy to Caricom will continue, GINA added.
Around the Web