A third suspect, who returned to the Cayman Islands on Thursday morning, has been arrested in connection with the disappearance of Guyanese Hemerson Raymond Gonzalez, who has been missing since last December.
Chief Inspector of the Inspectorate and Special Projects of the Royal Cayman Islands Police Service (RCIPS) Patrick Beersingh yesterday told Stabroek News that a man was arrested on Thursday morning.
He said the man was held on Thursday "on his return to the island at the Owen Roberts International Airport and [remained] in police custody at this time."
Two women—a 25-year-old and a 19-year-old—who were arrested on January 2 reported yesterday to the RCIPS and remain on bail. The 25-year-old, of Canyon Dawn Drive, Savannah Grand Cayman, was arrested on suspicion of being concerned with the possession of controlled drugs with intent to supply. The 19-year-old, also of the same area, was arrested on suspicion of misleading the police and conspiring to pervert the course of justice.
According to the Cayman27 news website, the police were asked if they had suspicions of Gonzalez acting as a drug mule and they said that they were "keeping an open mind."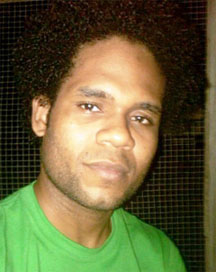 RCIPS' Chief Inspector also informed Stabroek News that Gonzalez's mother has been updated and the police's Family Liaison Officer maintains contact with her.
The woman, Deborah Thompson, had left her home in Venezuela and transited in Guyana on her way to the island on December 23 last. She had told Stabroek News that she had spoken to RCIPS and was pleading with the public to come forward with any information that would assist with finding her son, who has been missing since December 9.
According to reports, Gonzalez had been staying with a male friend in Canyon Dawn Drive in the Spotts/Newland area. His friend told police that Gonzalez had told him that he was ill and suffering from severe vomiting when he left the house.
Since leaving his friend's residence, Gonzalez has not been in contact with friends nor has he sought medical attention as checks at hospitals and health facilities have turned up nothing.
The missing man is described as 5 ft 8 in tall, dark brown in complexion and with curly black hair which is about 1-1.5in in length. He weighs about 180 lbs and has a tattoo of a compass on his left forearm and writing tattooed on the inside of his left wrist.
When last seen, he was wearing brown jean shorts, a t-shirt and blue low cut cloth shoes, the reports added.
According to the reports, Cayman Police Superintendent Marlon Bodden is urging anyone who has seen Gonzalez or who is aware of his current whereabouts to contact the police immediately to ensure that he receives urgent welfare and medical attention.
The lead investigating officer in this disappearance is Detective Sergeant Charmane Huntley and she can be reached at the George Town Police Station Criminal Investigation Department at telephone number 949-4222. Information can also be passed on the following numbers 925-7240/ 926-3975, or via the confidential Crime Stoppers line 800-8477(TIPS) and the email address hemersonGonzalez@hotmail.com which has specially been set up for this case.
Police said that investigations are continuing.
Around the Web