Chinese wood processing company Bai Shan Lin Forest Development Inc which is looking to move ahead on its large-scale industrial plans has advertised for 700 Guyanese workers.
The company's planned projects include a trade park at Providence, East Bank Demerara.
In advertisements in the media, Bai Shan Lin said that it had vacancies for 220 factory construction workers, 80 skilled chain-saw operators, 80 semi-skilled chain-saw operators, 30 bulldozer operators, 35 loading truck drivers, 60 dump truck drivers, two excavator and grader operators, 60 logging truck drivers, 20 container truck drivers, 10 mechanics, 10 servicemen, 13 cooks and 80 inventory clerks.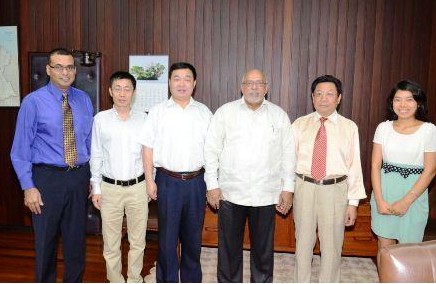 Those interested are asked to contact the Human Resources and Development Department on 222-1308 as of January 14, 2013. The company's address is 9 Shamrock Gardens, Ogle.
In the advertisement, the company said "In order to ensure and accommodate the timely commencement and completion of these projects, meet the demands of the company and to fulfill our promise to utilize (a) local workforce, hence assisting Guyanese people with employment, at present management is in need of approximately 700 Guyanese workers".
Whenze Chu, Chairman of the China Forest Industry Group Company Ltd, the parent company of Bai Shan Lin Forest Development Inc., on January 9, 2013 met President Donald Ramotar and Minister of Natural Resources and the Environment Robert Persaud at the Office of the President.
According to a Government Information Agency (GINA) report, the park, which will occupy five square kilometres and would be divided in three construction phases, will promote production of various kinds of wood products and brands "that will boost the development of the local economy, and create employment opportunities."
It said that while wood processing will be the main feature, the park will also encompass industries for ship building, woodworking, machinery, processing and manufacturing, food and aquatic processing, mining, a school and hospital.
"Construction of an international mall and an exhibition centre to showcase finished products manufactured at the Bai Shan Lin plant in Linden and other entrepreneurship ventures are also on the cards," the GINA bulletin said.
China Forest Industry Group Company Ltd is the parent company for several operations across Guyana, including Haimorakabra Logging, Karlam South America Timbers, Wood Associated Industries, Kwebanna Wood Productions, Sherwood Forests, Bai Shan Lin Housing, Construction, Mining development Inc., and Bai Shan Lin Shipbuilding and Heavy Industries Inc.
GINA said that Chairman Whenze Chu has a 40-year involvement in the timber industry and has accumulated rich experience in this field. It said that in November last year he signed off on a loan with the Chinese Development Bank for the forestry project in Guyana in the presence of Guyana's Ambassador to China Dr. David Dabydeen.
It further noted that the Building Expo hosted here last year created avenues for several local investors and businesses to enter the housing market, and that foreign companies from Trinidad and Tobago, Barbados, China and the United Kingdom have expressed interest.
It said that one such company was the Suriname-based China Dalian Investment Corporation Holding (CDICH) Ltd Company. The company engaged in talks with the Ministry of Housing and Water in November last year on potential investment in the local low-cost housing market within the East Bank Demerara area and Region 3.
The need for value-adding from foreign investors in the timber industry has been repeatedly urged. In the past there have been several commitments for processing plants. While these have not materialized, the companies in question have engaged in significant log exports.
Around the Web