Police last evening held one of three men who had been spotted trailing sex worker Wesley Holder in the period before he is suspected to have been fatally stabbed last Thursday, members of his family said.
The arrest, which could not be confirmed with police, came just over a day after the discovery of the body of Holder, 19, also known as "Horatia" and "Tiffany," in an open lot.  He was clad in a green fishnet dress and there were stab wounds about his body.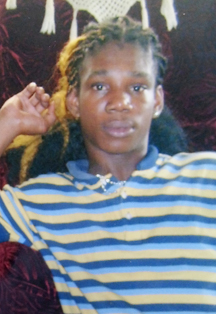 His aunt Paula Niles told Stabroek News that police made the arrest with the help of Holder's associates, who said they saw the man and two others following their friend.
At Holder's Cross Street, Werk-en-Rust home, one of Holder's associates, who provided his name as "Angel," said that on Thursday night he met Holder on Regent Street and asked to follow him.
"I been at Subs and Salads the night and I see Tiffany and he seh that he going up King Street and ask me if I want come.
"And I tell he not to go but he head up Croal Street and three men follow behind he," Angel said.
He added that while he and other sex workers were on the road, a man approached him and said, "you like give out information; you next gon go."
A still shaken Niles said that when she and her sister—Holder's mother—went on the street yesterday a number of persons were taunting them about her nephew's death.
"I can't forget it, is nah easy at all. Dey shouldn't ah kill he," she said. "All ah we is human beings and nobody ain't gon want dem thing happen to dem family but God is we judge.
Wat Horatia do to dem? Dey tek way we love one from we and mark me words God gon find dem out," Niles cried.
Niles described Holder's mother, who travelled to Georgetown from Essequibo upon learning of her son's death, as a woman of meagre means. She sells mangoes to earn a living. She added that the family now has the responsibility of burying him with no resources at hand.
Attempts were made to contact overseas relatives for assistance but there has no success. "I tell he go home and help yuh mudda pick mango and sell! He nah wan hear. He want deh pon de road," Niles said.
"I use to warn he come off this road, 'cause it got AIDS out dere and I tell he dat he gon dead early if he don't be careful but I neva thought I woulda live fuh see de day dey kill he like dat man. Ow! Wat he do dem?" Niles cried.
In addition to prostitution, Holder was said to have been a good dancer who would from time to time perform for money at social events. Niles said he was a crowd favourite everywhere he went. She added that he was previously employed but left due to discrimination he faced at the job site.
"I want advise dem wah deh out there to go and find a job because what dey doing is dangerous; dey could get sick and God forbid another one could get kill. What happen to we could happen to anybody, is a serious time we living in," Niles said.
Around the Web