Many magistrates lack the legal knowledge needed to deliver justice to victims of domestic and gender-based violence, according to Guyana Legal Aid Clinic Managing Attorney Simone Morris-Ramlall, who says the local legal system is insensitive to gender issues and a restructuring is needed to ensure those who need help get it.
The clinic can be considered a hub for victims seeking legal redress for abuse, but Morris-Ramlall believes that the lack of knowledge about the Domestic Violence Act among many members of the magistracy as well as the bureaucracy of the judicial system often lead victims to abandon their pursuit of justice.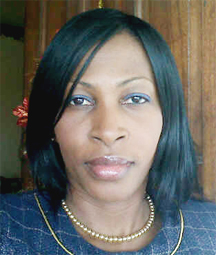 Although she made it clear that she was not blaming solely magistrates, Morris-Ramlall told Sunday Stabroek in an exclusive interview that it is evident that many of them do not understand the purpose and scheme of the law, since they are unaware of some very basic things.
Following a training session for magistrates held at the Georgetown Club early last year, she had been optimistic that things would have changed but instead it is "business as usual for many of them," she said.
One of the reasons, she explained, is because magistrates leave the system and very often their replacements are insensitive to gender issues. As a result, she believes that there should be mandatory training in gender-based violence issues upon the appointment of magistrates.
In addition to training, Morris-Ramlall also wants a shake-up in how domestic and gender-violence cases are dealt with, both in and out of the courtroom. She is calling for a special magistrate to deal with these cases.
She disclosed that in Georgetown, there was a formal agreement where one magistrate dealt with those cases but because of some problems, Chief Magistrate Priya Sewnarine-Beharry—whom Morris-Ramlall said has demonstrated that she understands how to deal with such matters—hears the cases.
However, the attorney said that with the Chief Magistrates' workload, she is forced to assign some cases to other magistrates. Morris-Ramlall did, however, acknowledge that while it is possible to have a special magistrate in Georgetown and on the East Coast, it would not be possible in some of the other regions where courts function less frequently.
'Slow process'
In addition, Morris-Ramlall said there is also need for reform at the Magistrates' Court Office, where filings for the domestic violence matters are done. She is calling for a dedicated clerk to deal with such cases, including assisting victims in completing forms as the law enables them to make applications without the services of a lawyer.
She said that because they are often sent by magistrates to get a lawyer, victims end up at the clinic or others would pay for a lawyer if they have the means. "But there are forms at the back of the act which the clerks are supposed to assist victims to fill out. So you don't need a lawyer, you fill it out and you go up to a magistrate and you get your order," she explained.
Under the law, victims can seek a number of court orders. These include protection orders, to prohibit their alleged tormenters from visiting their work place, or residence; occupational orders, to evict their partners from the home; tenancy orders, vesting the tenancy with the victim instead of the perpetrator, who could be ordered to pay the rent or contribute even if ordered to leave the home; maintenance orders, for support for their children or themselves; and custody orders, for custody of children.
However, many times the clinic's clients abandon the process because they become frustrated by the slow process, Morris-Ramlall said.
"Women expect that a domestic violence application would be a relatively simple one—that they would go to court and just get their orders and that would be it. They don't expect to be running back and forth to court for months pursuing protection under the Domestic Violence Act and that is what happens a lot," she said, adding that ultimately the blame lies with the judiciary even though she agreed with the right of the respondent in such cases to have a say as well.
"What I have a difficulty with is the matter being protracted unnecessarily. The scheme of this act is one, in my view, which should be for persons to approach the court and have their matters dealt with, in a relatively short span of time. They are not be treated as regular summary magistrate court matters because you have to take into account the peculiar nature of domestic violence matters," she explained.
In many instance, such cases are treated like regular matters, she said, pointing out that although the law specifies that they should not be dealt with in open court, some magistrates still do so.
Some lawyers, Morris-Ramlall added, are also insensitive to domestic violence issues. She said while they have to represent their clients, they must be sensitive to the victim and cognisant of the nature of the matter. How the case is dealt with can often cause victims to give up the fight because of what happens in court, she said.
She added that in some instances, the defendants and their lawyers "manipulate the system" and after the back and forth they call for a trial, by which time many victims would opt to discontinue the matter.
She said she is forced to close as many as eight files every month for women who decide that they are just no longer interested because of frustration. She said she has had matters drag out for more than a year and some of her clients are faced with the problem of not having anyone to look after their children as they make their frequent trips to the court and this just compounds their situations.
'We provide the service'
The Guyana Legal Aid Clinic provides free and subsidised services to persons who cannot afford private attorneys. Under normal circumstances, when clients visit the clinic they are given a date for an appointment to consult with an attorney. However, provision is made for those who have a matter in court with a fixed date, who would be allowed to see a lawyer.
Morris-Ramlall said when it comes to domestic violence matters, clients are not given general dates and based on the urgency of the situation, which is assessed by a clerk, they could be seen by a lawyer on their first visit.
Clients with domestic violence issues are also not lumped with the other matters, where clients are interviewed and a fee is assessed and then they make a deposit before their matters are filed.
Payment is not a pre-requisite when it comes to domestic violence cases, Morris-Ramlall said, as the matters are sometimes prepared immediately or sometimes overnight and payment is not called for immediately. Sometimes domestic violence cases are completed without the client having paid any fees.
Morris-Ramlall also revealed that to better deal with their clients, they collaborate with Help and Shelter, Red Thread, and the ministries of Amerindian Affairs and Human Services and Social Security, all of which would sometimes refer clients to the clinic.
At other times, the clinic would be forced to seek the intervention of these agencies for clients to get counselling or for their protection, as in some cases their partners would follow them to the clinic and behave violently. In some cases, police would also have to be called in order to escort the client from the clinic and take her to a secure location.
Morris-Ramlall said many of their clients are women, noting that on a regular basis the clinic sees several women who would have suffered abuse and are seeking protection from their abuser.
"Women are the ones most affected by domestic violence and gender-based violence and we have been representing many of them, since they lack the means to pay private attorneys and so to get them protection we provide the service," explained.
She further explained that the clinic would file for restraining orders for the abused woman, a large percentage of whom require them. Some, however, refuse to pursue the restraining order and would decide to instead move on with their lives and seek divorce and division of property.
There are also cases of women who make reports to the police and even have their partners charged, but then decide to drop the matter. Morris-Ramlall said it is an issue that also happens frequently at the clinic and in some cases it is because family members intervene or because they feel that the men would be jailed. "They don't realise that it is not a police matter, not where the perpetrators are charged by the police, it is basically a matter in which you would be restraining the man from doing certain things but people just feel that the man could be sent to jail…," she explained.
Some women also end up forgiving their partners, whom they still love. For them, reaching out to the clinic is often just an act of trying to stop the man from abusing them and it was never their intention to severe the relationship.
'Expansion'
Morris-Ramlall said while the clinic has offices in regions 2, 4, 5 and 6 and while the government has been supportive of the clinic, there is need for its services to be expanded to other regions.
"I think we need to have a further expansion in the near future to other parts of the country because if you are to think about what happens in the interior locations, how do those women get help? Do they get help?" she questioned.
She pointed out that the courts in those areas only sit every three months but she feels if the women have access to legal representation they would be better be prepared for the process.
And while acknowledging that it may be difficult for offices to be established in those areas, Morris-Ramlall advocated for outreaches to be held until funds are available for further expansion. "The quality and quantity of our [Guyana] support system should be improved and made available countrywide," she said.
She said Guyana's 2008 National Policy on Domestic Violence, drafted under the theme 'Break the Cycle, Take Control,' was aimed at guiding government interventions related to domestic violence and it was proposed that there being a "common service protocol" to include the police, health, education and social service sectors.
To this end, she called for systemic monitoring of the performance of the various actors involved in dealing with gender-based violence.
Further, she said the common service protocol proposed pursuant to the national policy should be implemented and should be mandatory and there should be functioning gender-based violence sections in each police station.
More men also need to be involved as advocates in the fight and Morris-Ramlall said there should be court-ordered and monitored intervention programmes for men, as has been happening in neighbouring countries. She pointed out that many men still do not accept that domestic violence is wrong and if they are only punished then they would just continue perpetrating the violence.
She said the education process should start with boys and as a result schools need to be targeted.
Importantly, Morris-Ramlall said work needs to be done in the area of enforcement of protection orders and the police should be held accountable, since many times the orders granted to women are reduced to just being a piece of paper as the men are not arrested for breaching the orders.
"In all of the cases where they have been breaches with my clients, I had to file for the breach," she revealed, while calling for established protocols.
Morris-Ramlall added that while at times she becomes frustrated by the system, she does not allow it to daunt her efforts and that of the clinic as she realises the position they are in to make a difference.
"I could be a part of creating change, because you see women when they go to court they rely on me, they rely on the magistrate as there is a limit to what they can say but I stand in a position where I can demand that things be done differently and I could advocate for all these obstacles to be eliminated so I don't feel discouraged at all," she said.
Around the Web