High tides this afternoon swamped the East Coast Road between the Kitty Byways and Turkeyen creating traffic havoc and leaving residents agape at the ferocity of the waves.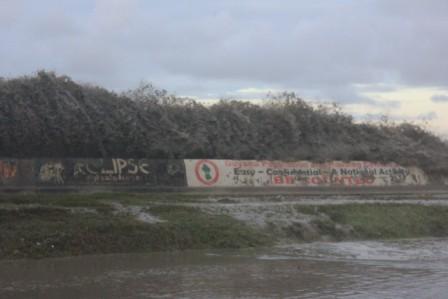 Minister of Public Works, Robeson Benn, accompanied by a team of officials from the National Drainage and Irrigation Authority this afternoon visited the areas affected by the spring tides, the Government Information Agency reported.
Benn said the flooding was as a result of higher than usual spring tides, measuring 3.15 metres, and high waves striking the seawall between Turkeyen and Sheriff Street which is "undergoing cyclical erosion."
"It's lower and the seawall is at an angle to the transit of the waves. On top of that we had 1.2 meters of waves riding on top of the tide," he said. GINA said that the Liliendaal Pump Station was shut down as a precautionary measure due to the massive amounts of garbage floating around. Benn expressed the hope that most of the sea water would be contained in the canals south of the Rupert Craig Highway.
The next high tide is at approximately 4am tomorrow.
Around the Web