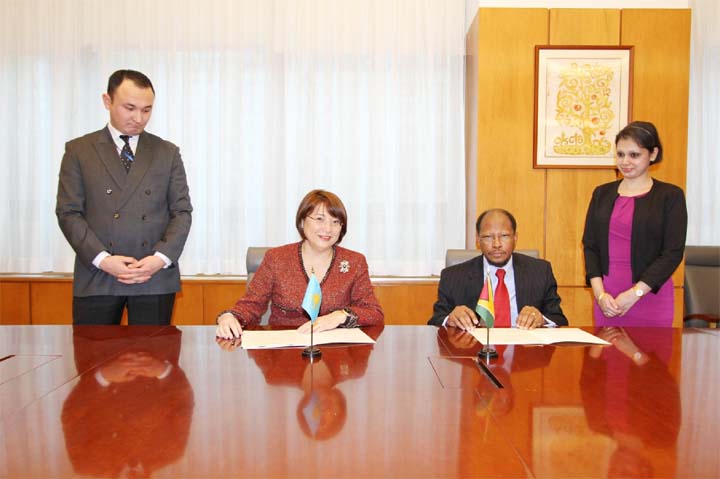 Guyana and Kazakhstan have formally established diplomatic relations as of Friday last, a press release from the Ministry of Foreign Affairs said.
A communiqué establishing diplomatic relations was signed by Permanent Representative to the United Nations, Ambassador George Talbot and the Permanent Representative of Kazakhstan Ambassador Byrganym Aitimova at the Permanent Mission of the Republic of Kazakhstan.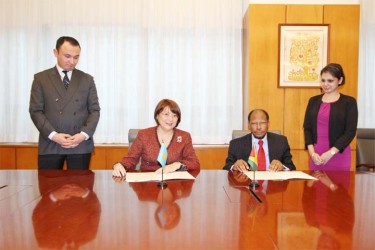 The release said the two countries expressed their confidence that the establishment of diplomatic relations will contribute to the promotion of trade, culture and friendship between the two countries. It added that the move to establish diplomatic relations was in keeping with Guyana's foreign policy.
Guyana and Kazakhstan have in the past cooperated in several multilateral fora such as the United Nations and the Organization of Islamic Cooperation on issues of common interest. This marks another step in the strengthening of the relations between the two countries and is expected to lead to enhanced bilateral cooperation, the Foreign Ministry said.
In photo: Guyana's Permanent Representative to the United Nations, Ambassador George Talbot (seated right) and Permanent Representative of Kazakhstan Ambassador Byrganym Aitimova (seated, left) sign to formally establish diplomatic relations. (Ministry of Foreign Affairs photo)
Around the Web