An autopsy has revealed that murdered sex worker Wesley Holder died from haemorrhaging and shock as a result of stab wounds and blunt trauma from a blow to the head.
The findings came yesterday even as Holder's family appealed for protection for one of the key witnesses in the case who has been receiving death threats.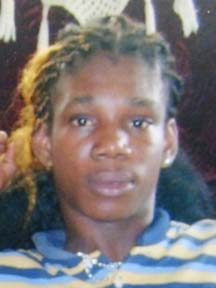 A post-mortem examination performed by government pathologist Dr Nehaul Singh yesterday found that Holder died of haemorrhaging and shock due to the multiple stab wounds and from blunt trauma caused by a blow to the head.
Holder, 19, also known as "Horatia" and "Tiffany," was found dead with stab wounds in an open lot near the Carnegie School of Home Economics last Friday morning.
Holder's aunt, Paula Niles, also told Stabroek News yesterday that a friend of her nephew, who identified two suspects in connection with the murder, has since been receiving death threats from a number of persons.
"I want the police to protect Angel; he standing up for what is right and telling the truth without fear. I am now scared because of this whole thing," Niles said.
A police source has said that the two men who were identified are currently at the Brickdam Police Station assisting police with their ongoing investigation.
Niles also raised the issue of a blue sheet which covered Holder after his body was discovered. She said the blood spilled on the sheet could have been very important evidence in the murder but was not picked up by investigators.
She also said that Holder's handbag and a knife which he walked with for protection along with his slippers were all found at the scene of the crime.
The police have since said that the items mentioned above and a number of used condoms which were wrapped in toilet tissue were discovered.
Meanwhile, this newspaper has been told that the Human Services Ministry has decided to assist the family with the funeral arrangements after learning of the case through the media.
Niles had told this newspaper that Holder's mother, who travelled to Georgetown from Essequibo upon learning of her son's death, was a woman of meagre means, who sells mangoes to earn a living. She added that the family now has the responsibility of burying him with no resources at hand.
Around the Web