At the Vreed-en-Hoop Court yesterday, Magistrate Sherdell Isaacs denied an 18-year-old man his pre-trial freedom when he appeared before her charged with murdering housewife, Margaret Singh.
Avinash Singh of Soesdyke, East Bank Demerara and Greenwhich Park, East Bank Essequibo (EBE) allegedly murdered Singh at her home at Orangestein, EBE. He also faced charges of escaping from lawful custody The woman who was attacked and beaten with an iron bar to the head on December 20, 2012 succumbed to her injuries on January 4. Her grandchild, for whom she was caring at the time of the attack, was also beaten.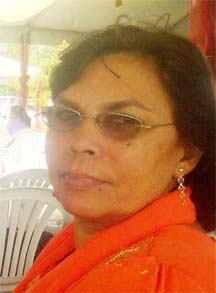 She was first taken to the Leonora Cottage Hospital and then transferred to the Georgetown Hospital.
The child was discharged from hospital one week later but Margaret remained a patient in the Intensive Care Unit (ICU) of the hospital, where she succumbed.
Stabroek News had learnt that some $30,000 in cash and two cellular phones were stolen from the home.
The bandit also ransacked a wardrobe but the woman's husband, Oudaimal Singh was unable to say whether anything else was taken from the home.
One of the neighbours had told this newspaper that a man was seen leaving the woman's home.
Around the Web