Chief Executive Officer of the National Tender Procure-ment Administration Board and former deputy comptroller of the then Customs and Excise Department Lloyd Forde died early yesterday morning at the St Joseph Mercy Hospital where he had been rushed.
Forde had only last week Monday celebrated his 69th birthday.
His daughter Lizana Forde told Stabroek News yesterday that her father had not been ailing so his sudden death shocked his family and they are left pondering their next move.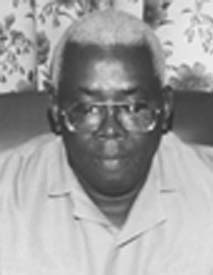 "He had said he wasn't feeling well and we took him to the hospital around midnight (Sunday) but it was not anything to make you say this man is not going to be here now and is going to die," she said.
Forde, the former warden at of the St Paul's Anglican Church in Plaisance, East Coast Demerara was described not only as an ardent church member but also one who loved being involved in community activities beneficial especially to youths.
Forde was also said to love music and would spend extensive time "listening to his oldies and enjoying every bit of each song".  He was said also to be a lover of cook-up rice and chowmein and if it was his choice he would have these meals everyday of the week.
While he was not listening to music or working Forde dedicated his time to his family and it is for this dedication to that they said he would be remembered most. He was father to 14. "He never had friends he spent his time with his family… He loved his children dearly and there isn't anything he wouldn't do for them. Our dad just loved being with his family" said one of his daughters.
When contacted yesterday Junior Minister of Finance Juan Edghill reflected on knowing Forde not only in his capacity as CEO of NPTAB but as a church leader while they both grew up in the Plaisance/Sparendaam area. "He was always very quiet but extremely diligent where his work was concerned. The Tender Board is an entity that required a lot of energy and dedication because you have to pay attention to every detail to ensure a level playing field and that is what Forde had" he said.
"He was admirable was fully aware and up to date with every aspect of his work. He will be missed but we are thankful for the time he was with us," Edghill said.
Chairman of the NPTAB Donald De Clou, who first confirmed Forde's death to this newspaper, stated that Forde would be missed.
Forde could be seen every Tuesday morning if not actively participating in the opening and registering of tenders overlooking the exercise as he went from his office upstairs to the boardroom ensuring that the process went smoothly.
Around the Web