A man yesterday died after he lost control of his motorcycle and collided with a car on the Demerara Harbour Bridge.
Dead is 22 year-old Lemuel Ogle of Lot 69 Pouderoyen, West Bank Demerara, who was an electrician at the Guyana Power and Light, stationed at Garden of Eden.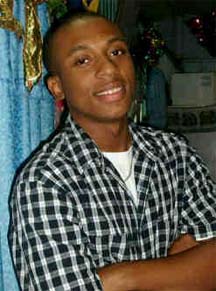 Reports stated that at about 13:20 hrs yesterday, motor car HC 110 was proceeding west along the Demerara Harbour Bridge while Ogle was travelling in the opposite direction with his motorcycle CG 4998. Ogle allegedly skidded on the bridge and collided with the car.
He was later rushed to the Georgetown Hospital where he was pronounced dead on arrival.
When Stabroek News visited his home last evening his relatives were inconsolable.
"Ow God mah son he died. Up to this morning he kiss me up and said I love you mommy, he bought the bike just the other day and said he could only travel up to 40 because he aint really know how to ride it", his mother Sheryl Thorington cried.
Thorington said that after she received the news about her son's demise, she quickly went to the Georgetown Hospital where she saw him lying lifeless on a stretcher.
"When I look… he looked like he was sleeping and when I touch he hand he was cold and he lip blue like rigor mortis already set in he system", She added.
Thorington added that she knew one thing "I know fah sure one thing that my son gone to heaven. He sit down here with me this morning and he prayed and read the Bible with me", she cried.
"This morning he alone took three slices of bread with a bowl a pepperpot and sat there and ate all; he was a hearty eater, oh lord now he gone with the father", his mother said continuing to cry.
She said that everytime her son was about to leave the house he was always unable to locate his keys. "If I de know I would have hid it and he wasn't going nowhere", Thorington said.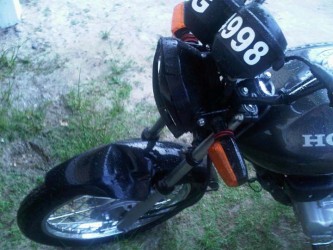 Ogle's sister, Shellon Thorington, said that at about 2:30 pm her brother contacted her and said that he would call her back as he was heading to Georgetown on the motorcycle.
Shellon said that at about 2:45 pm she received a call from someone stating that her brother was involved in a fatal accident on the Harbour Bridge.
"After I get the message that he was in an accident I immediately left school and rush to the hospital where everybody was", she said.
Ogle recently graduated from the Government Technical Institute and started as an electrician at the power company.
His girlfriend,  Christina Mendonca, related that at about 11:30 am yesterday Ogle contacted her and asked if she had eaten anything for lunch.
"He called me and I told him that I was about to go on lunch and he said buy something good to  eat", Mendonca said.
She described her boyfriend as always loving and caring; going out of the way every time to make her happy.
"Whether I'm sad or rude he always made sure I smiled. He wanted a perfect life for both of us and would tease me a lot", she said.
"Anytime he did something he always apologised and during the time we were together he changed a lot in his life and loved his family dearly", Mendonca said.
Meanwhile, the driver of the motor car is currently in police custody assisting investigators.
Around the Web