An Angoy's Avenue, New Amsterdam woman was this morning murdered, allegedly by her lover of seven years.
Dead is Patricia Bacchus, 28, mother of two.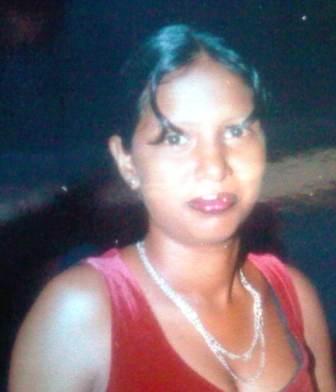 Reports reaching this newspaper stated that Bacchus and her lover had been living together for seven years and he is the father of her two children.
There was a period of estrangement and Bacchus had been living elsewhere. Today, there was an attempt at reconciliation but an argument erupted. Her lover then allegedly chopped her to death with a cutlass.
Reports said that he then fled with the cutlass and a bottle containing what is believed to be a poisonous substance. Police later arrested the suspect.
The police in their statement this afternoon said:
"The police are investigating the murder of Bhanmattie Devi Bacchus, 28 years, of Angoy's Avenue, New Amsterdam, Berbice, which occurred at about 0915h. today Wednesday January 16, 2013.
"Investigations revealed that Bhanmattie Bacchus went to the home of a man, with whom she had recently severed a common-law relationship, in an attempt at reconciling following his approach to her.
"During this an argument ensued and the man attacked her with a cutlass, inflicting chops to her neck and other parts of the body.  She was pronounced DOA at the New Amsterdam Hospital.
"The suspect has been arrested by the police who located him in the backdam area, and he is in custody assisting with the investigations."
Around the Web