A US District Court has ruled out bail for Sonny Ramdeo, the founder of the now defunct airline EZjet, deeming him a flight risk, while noting that the weight of evidence against him is strong.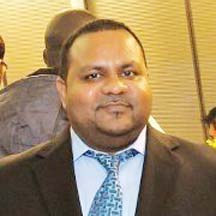 In the Southern District Court of Florida, where Ramdeo is accused of three counts of wire fraud, Magistrate Judge Dave Lee Brannon on Monday ordered Ramdeo's confinement in a corrections facility ahead of his trial.
"The Court specifically finds that no condition or combination of conditions will reasonably assure the Defendant's appearance in court," he said, in a pre-trial detention order. "His dual citizenship and extensive travel history to an international destination where he maintains significant ties, combined with the circumstances of his arrest and the large sum of money that remains unaccounted for as a result of his alleged fraudulent scheme, all lead the Court to find the Defendant to be a flight risk," he added. The order also noted that Ramdeo has a criminal history that includes a 1999 misdemeanor conviction for petty larceny and a 2001 felony conviction for attempted grand larceny.
The indictment against Ramdeo alleges that from September 2003 until October of last year, he wired money into his accounts that was to have been used to cover payroll taxes for Promise Healthcare's roughly 3,500 workers. He allegedly formed two companies, Payserv Tax and EZjet GT, to receive the money, prosecutors said.
According to the indictment, in 2011 and 2012, Ramdeo made two transfers to his account, totalling US$363,700, which was to be used for payroll taxes at a hospital in East Los Angeles. In October, he allegedly diverted US$100,828 that was to cover payroll taxes for employees of a hospital in Gonzales, Louisiana.
If convicted, Ramdeo faces up to 20 years in prison and a fine of US$250,000 or greater on each count of conviction.
Among the factors cited for the court's decision is the weight of evidence against him, which the court said is strong.
Magistrate Judge Brannon noted that the evidence presented to the court in the indictment was that at Ramdeo's direction, approximately US$24M in funds intended for the payment of wage payroll taxes for over 3,500 hospital employees were unlawfully diverted through his payroll service to the bank accounts of EZjet. The fraud allegedly occurred over two years and later during an audit Ramdeo allegedly attempted to disguise his unlawful activity by creating a fictitious email account and fraudulent email correspondence. "When that did not work, the Defendant packed up his office and left. After expending considerable resources to discover the Defendant's whereabouts, law enforcement finally tracked him down and arrested him in an apartment basement in Queens, New York," he noted.
At the time of his arrest, he further added, Ramdeo indicated "that he knew he was in trouble and that much money was missing." It is estimated that the total amount of loss is US$24M but it is believed that the amount may exceed US$55M based on Ramdeo's own statements while the US government represents that US$5M is unaccounted for.
The magistrate also noted that Ramdeo has dual citizenship in the US and Guyana and that he had visited Guyana "a countless number of times" to visit friends and his former wife's family. Apart from his travel to Guyana he also has an extensive travel history to Trinidad, Canada and Barbados. Ramdeo's assets, according to the magistrate, include a Florida home valued at US$425,000 with US$80,000 in equity but he apparently owes substantial amounts of money for outstanding judgments against him and credit card debt.
After reports that he was being sought by the FBI in the embezzlement case, Ramdeo apparently went into hiding but said via several press releases issued in EZjet's name that he was in contact with the FBI.
He has been in custody since being arrested last month.
Around the Web