Speaker of the National Assembly, Raphael Trotman has ruled against amendments proposed by Attorney General Anil Nandlall to a motion in the name of Opposition Leader David Granger calling for a probe of criminal violence from 2004 to 2010.
Trotman had earlier this week at a press conference deemed some of the amendments proposed by Nandlall as "scandalous". The Speaker had also chastised the Clerk of the National Assembly Sherlock Isaacs for not allowing him sufficient notice of what he said were the extensive amendments.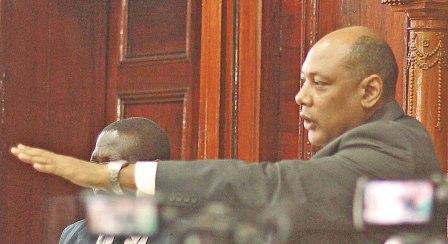 In a ruling circulated today, the Speaker said that Nandlall's proposed amendments offend Parliament's Standing Orders.
"I refer in particular, to references to sitting and former Members of Parliament, and other former and current leaders and superior officers of political parties and disciplined forces, and their "linkages" to criminal gangs; these, in my considered opinion, offend Standing Orders 26 (b), (c) and (d)", the Speaker ruled.
Noting that some of the persons named are not present to defend themselves, the Speaker said that the amendments also make statements that appear to be "fact" and yet seek to have a probe into the very matters.
He said Nandlall's proposed amendments are below what is acceptable and for them to be considered changes would have to be made to them. Trotman then proposed amendments to the sections which he found unacceptable.
Granger was to move a motion last Thursday in Parliament seeking to have government appoint a Commission of Inquiry to probe criminal violence from 2004 to 2010 ranging from the killing of Minister Satyadeow Sawh to the massacres at Lusignan, Bartica and Lindo Creek in 2006.
The motion was however deferred. The Nandlall amendments had to be recalled from Thursday's sitting.
Around the Web