The auto industry is booming, but so are complaints about dealers, especially those specialising in second-hand vehicles, who have been told to expect penalties if found guilty of breaking the laws.
This was the message delivered to industry representatives, including used car salesmen, at a seminar on consumer protection in the auto industry, organised by the Competition and Consumer Affairs Commission (CCAC) on Wednesday.
seminar, focused on 'How the Consumer Affairs Act Will Impact the Auto Industry in Guyana," was held at Regency Hotel/Suites, in Georgetown, and not only focused on car sales but vehicles such as motorcycles, with special focus on second-hand vehicles.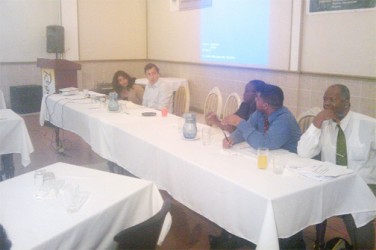 Used cars have attracted the largest number of complaints to the CCAC and its Chairman Ramesh Dookhoo said the volume of the complaints were a cause for concern, particularly about business practices when selling vehicles, financing and after-sale guarantees. "This seminar follows concerns about the large number of consumer complaints relating to the second hand car market," he explained, adding that it is intended to help Guyana's second hand car dealers, primarily, to comply with important pieces of consumer protection laws, covered in the Consumer Affairs Act of 2011.
Haroon Khan, an economist attached to the CCAC, bluntly that while auto sales have increased tremendously in recent years, so has the number of consumers complaining about being deceived by car dealers.
Khan, charting the growth of the auto industry, noted that from 2007 to 2012 Guyana's economy grew by 4.4%. He said that in 2011 alone, the economy grew by 5.4%, and while the world experienced and continued to experience economic strife Guyana's economy grew a further 4.6% in 2012. These developments, he explained, have led to increased disposable income levels as well as access affordable financing options, which in turn has increased demand for reconditioned, reconfigured, used, and to a lesser extent, new cars.
Khan said that this development signalled the need for a regulatory body to ensure that customers were not being given the "short end of the stick" when purchasing their vehicles. He mentioned that several regulations set out in the Consumer Affairs Act have been and continue to be broken on a daily basis. Consumers have complained about purchasing their vehicle and being issued a receipt instead of a contract to show ownership of the vehicle. There have also been instances where dealers coerced buyers into signing blank contracts, promising the vehicle for one price, but then raising the price on the contract after the deal would have been finalised.
He also said that many suppliers have been issuing vehicles with insufficient warranties, such as for a week, two weeks or a month, although the law stipulates the period to be six months. These practices, he said, are against the law, and any dealer found transgression would be penalised.
Compliance
Dookhoo emphasised that the seminar was intended to inform car dealers about the consumer legislation and their obligations in carrying out their businesses. He added, however, that it would not exhaust the length and breadth of legislation relating to this matter, and encouraged the dealers to acquire a copy of the Consumer Affairs Act and to contact the Commission if there were any need for clarification.
Sensing that some of the stakeholders may have felt threatened by the nature of the language used and the focus of the seminar, Dookhoo assured them that the Commission was not there to put them out of business, but to help them comply with the law, which will by extension be beneficial to them. "Keep in mind that this seminar is intended to help you comply with the law and protect your business's reputation," he reminded.
He also emphasised that dealers in second hand vehicles are to comply with all consumer protection laws covered in the Act, including unfair contract terms, warranties, unfair commercial practices, duties of suppliers and other laws which affect how suppliers deal with customers.
He said that the legislation prevents the suppliers from, among other things, giving false information to or deceiving consumers through false advertising; giving insufficient information to consumers, including leaving out or hiding important information; and acting aggressively by means of using coercion or undue influence.
Lead Technical Advisor to the CCAC Massimiliano Gangi, who is an expert in competition law and international best practices in consumer protection, said that the safeguard of customer rights with respect to the sale of used vehicles is in the interest of all involved parties as it will contribute to the promotion of an efficient used vehicle market. He also said that well-informed and satisfied consumers are more likely to become repeat customers and make referrals to their car dealer if they feel satisfied.
According to Gangi, a thorough mechanical inspection should be carried out on every vehicle before it is put on sale to ensure that consumers are well-informed the condition of the vehicle. He said that a fact sheet, containing information about the state of the main parts of the vehicle should be provided. He added that customers should, however, be allowed to have an independent mechanic inspect the motor vehicle before the purchase is made, as opposed to being forced to accept what is told to them by the supplier. He also said that there should be no misleading or false information about the vehicle, and that any significant omissions of relevant information about the vehicle could be considered a violation of the Act.
Gangi also said that the Act stipulates that car suppliers in Guyana are liable for six months after the sale for faults that were present at the time of the sale, even though such faults— so called latent or inherent faults—may only become apparent later on.
He also said that in serious cases where a fault cannot be repaired, the consumer can request a full refund, which the supplier can avoid paying if proof can be supplied that the fault was not there at the time of the sale.
Concerns
One spare parts supplier said that he welcomed the seminar as he saw it as beneficial for the industry and business. He said, however, that he hopes to see the results materialise.
Several others expressed concerns about some of the laws in the Act. Of particular concern is a law pertaining to the provision of a mandatory six month warranty. The supplier said that it is very expensive for suppliers to provide a warranty of this magnitude, and questioned criminalising the distribution of lesser ones. He made mention of a popular as well as respected American used car retailer, saying it only offers a 30-day warranty on all its models. The supplier was, however, reminded that while that may be the practice in the United States, Guyana's laws concerning were different as well as explicit.
Several suppliers voiced their willingness to cooperate with the Act, but stated that government should also take steps to make business for them easier. A retailer said that government should consider reducing the rates and taxes to import the vehicles, stating that if that is done, it would be less costly to import new vehicles. Once this is done, he added, dealers would be in a better positions to import new vehicles as opposed to the second hand ones, which in some cases are quite aged.
Dr. Barton Scotland, head of the Caricom Competition Commission, urged the CCAC to conduct their activities in such a way that the business owners would not feel stifled and strangled. He stated that in protecting the rights of consumers, used car salesman must not feel that they are the object of a governmental crusade against businesses.
He also mentioned the importance of holding such seminars for consumers as well. Scotland emphasised the need to ensure that consumers are well aware of their rights, and stated that the issues related to the industry may be avoided if they are aware of their rights as well as the regulations that exist to protect them.
The CCAC is established by the Competition and Fair Trading Act of 2006 and the Consumer Affairs Act of 2011, with the overarching objectives of encouraging competition, prohibiting anti-competitive business conduct, investigating alleged abuses of a dominant position in the market and in trade, and promoting consumer welfare in Guyana.
Around the Web