Guyana's labour laws have now been translated into Chinese and the government hopes that this step will pave the way for fewer complaints about alleged labour violations.
The compendium of translated laws- Leave with Pay Act, Restaurants Act, Shops Act, Licensed Premises and Conditions of Employment Act- was presented to the Chinese Association at a meeting between top officials of the Ministry of Labour's inspectorate and a large number of Chinese nationals at the association's headquarters on Brickdam yesterday.
"We hope that with the translation of these key laws, there will be a complete reduction if not elimination of problems at the workplace," Labour Minister, Dr. Nanda Kishore Gopaul told the meeting. He said that the laws were unbiased and not stringent and should be welcomed by the Chinese.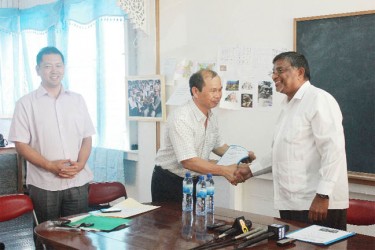 "The laws are by no means draconian laws…it is fair to both sides and there are expectations as from employees as well as expectations of management", he said.
He said that the fact that there were many attendees was indicative of a people wanting to comply with the laws of the land.
Gopaul thanked the attendees for "generating employment" and creating revenue for the country.
Chief Labour Officer Charles Ogle in brief remarks stated that the translation was needed as many Chinese nationals had been making queries and this mechanism was crafted to give clarity to both employers and employees on their rights. "We used to come across some problems with the labour laws of Guyana…this problem was caused by the lack of understanding about the laws…  because of the language barrier but we want to help you and that is the reason why we have translated some of our labour laws into Chinese," he said.
President of the Chinese Association, Shilong Chow charged attendees to familiarize themselves with the laws and to adhere to them.  Through an interpreter, Wong said "The Chinese Association also wish that all Chinese businesses will take some time to learn better the regulations and laws to bring about a better understanding and to do better business."
Only recently the labour laws were also translated in Portuguese to cater especially for the growing number of Brazilians  working here.
Around the Web