Relatives of Tyron Emmanuel Achaia, the 28-year-old Guyanese national shot dead in front of his residence in Trinidad, say that a Post Mortem Examination (PME) carried out Wednesday evening determined that he died after the bullet pierced his heart.
Achaia's mother said that he left Guyana about six years ago to vacation in Trinidad. "He decide fuh stay because he say he like the place, plus he find a good job over there, he was qualified," said the man's mother.
The woman said that she learned about her son's demise around midnight on Wednesday evening. Annette Ally, the man's aunt, said that it was her daughter who first received the call about her nephew's death.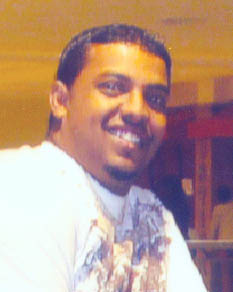 She said that a good friend of Achaia called her daughter on Wednesday night and told her that "something very serious had happened. She said that she was trying to get on to his mother but didn't have a number." After being supplied with the number, Ally said the woman then called Achaia's mother and broke the news to her. The woman told her that Achaia left to wash his clothes at a nearby house at around 10:00pm, as was customary from him, and was shot in his chest as he was returning home. This was around 10:30pm.
She said that some time before he returned she noticed a couple of men exit a burgundy car which was parked nearby, but thought nothing of it. It was these men though, the woman said, who approached Achaia and fired a single shot as he was on his way home with his laundry.
Ally said she was told that Achaia ran towards his apartment after he was shot but collapsed before he could reach the door.
She said she was told that the men then re-entered the vehicle and drove away.
Achaia's mother says that she is still in shock. She said that her son came to Guyana last month and spent the entire Christmas holiday with them before returning to Trinidad on Old Year's Night. She said that she cannot imagine who would want to harm her son, but admitted that she did not know much since he was so far away.
She did say that her son confessed to her some time ago that he felt somewhat afraid.
Achaia worked as a supervisor at the Highway to Heaven Restaurant and Bar, located in Freeport. Achaia had told his mother that when his manager was out of the country on business, he would be left to manage the business's finances.
This, he said, frightened him since "he taught people wuuda think he get money and come fuh he. In Trinidad the crime rate high and people is get shoot jussuh." The woman said however, that she was not convinced that her son's murder was motivated by robbery since the gold rings, chain and band he was wearing the time were all left behind.
She said that his wallet was also untroubled.
She said that the boy's father, Ravi Achaia, and brother, Ryan Achaia left for Trinidad this morning to see what they can unearth in relation to his shooting, and to bring his body home. She said that when the men turned up at the scene of her son's shooting they were greeted by a Trinidadian police investigator who informed them that he was looking into the murder. This, she said, offered her some level of comfort. Thus far however, no arrests have been made.
The man's relatives say that they are hoping they will receive justice for Achaia, since it is common for murders in Trinidad to go unsolved.
Relatives say that they are hoping to bring his body back to Guyana by today to finalize funeral arrangements.
Around the Web