The local protected areas system received a boost on Wednesday with the exchange of notes to  initiate a grant from the German Government to the Guyana Government via the Ministry of Natural Resources, the Government Information Agency reported.
German Ambassador Stefan Schluter said, according to GINA, that his country's partnering with Guyana on environmental issues began in 1996, and since then, has continued to grow. "We are actually now celebrating the third phase of this on-going project which so far amounts to US$14 -15M. This is the latest phase which will have about 5M Euros in aid. "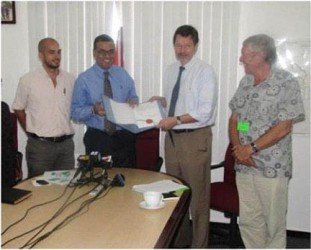 This latest initiative is to serve as an endowment to the Protected Areas Trust Fund and partly fund the setting up of the Protected Areas Commission's offices and develop infrastructural management plans in key protected areas.
Minister of Natural Resources and the Environment, Robert Persaud, welcomed the financial aid. "The people and Government of Guyana appreciate the firm and consistent support of the Government and people of Germany in this particular area".
The formal operationalisation of the Protected Areas Commission was also announced on Wednesday. GINA said "The commission will join the Guyana Geology and Mines Commission, Guyana Forestry Commission and the Environmental Protection Agency as the administrative axis for local sustainable development under the Natural Resources Ministry. The commission's  establishment stems from the passage of the Protected Areas Act of 2011 and it will be run by a board of directors including Chairman Shyam Nokta and Vice Chairman Major General (rtd) Joe Singh with responsibility for managing, promoting and expanding the National Protected Areas System (NPAS)."
Around the Web