Minister of Health, Dr Bheri Ramsaran said education is key to reducing the incidence of malaria, when he presented 5,000 Long Lasting Impregnated Nets (LLINs) to acting Region Seven health officer Merlene Ferrier.
Along with the nets, posters and pamphlets with information about the mosquito-borne disease will also be distributed and plans are in train to host another discussion about the disease in one month's time.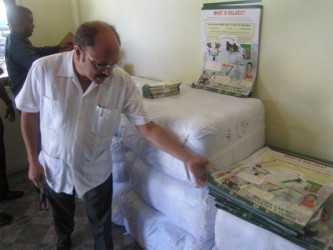 At a press conference in December, the Vector Control Services unit had committed to distributing 50,000 nets from January 15, to areas where the disease is prevalent.
The Government Information Agency (GINA) reported that there were 8,578 new cases of malaria recorded in 2012 with 4,593 positive rechecks. The treated nets will be distributed to several communities in Region Seven and will target miners in particular.
The RHO explained that malaria has long been a challenge in Region Seven, probably because it is the largest mining area. Ferrier also said that the increase in the number of positive rechecks is attributed to persons who fail to complete their treatment and suffer relapses.
While most of the malaria cases are found in mining districts, she noted that health workers also contract the disease because of the amount of time spent in the fields. Ferrier also said that while the Region has not been distributing nets on a large scale, it is hoped that the availability of the 5,000 nets will make an impact on the people who will be receiving them. She urged the recipients to use the nets for the purpose for which they are intended, particularly miners who take the nets home and often return to the mining areas without them.
In order to ensure accountability, two forms have been prepared, the distributor agreement which was signed by the RHO and one for recipients.
The Malaria Unit will also be conducting mass blood and fever surveys every 21 days in all mining camps and villages, completing radical cures of every confirmed malaria case based on standard treatment guidelines, extending outreaches and mass health education and awareness programmes to poor and vulnerable groups and engaging new national partners. A malaria conference has also been planned, GINA said.
GINA also noted that over the past few years, with the assistance of Global Fund, the ministry distributed over 16,000 nets around the country. The ministry plans to expand distribution and allocations will be made to other regions. Nets will also be given to the Gold and Diamond Miners' Association for distribution.
Around the Web