More persons are being encouraged to appreciate and capture Guyana's beauty through the Guyana Tourism Authority's (GTA) amateur 'See it, snap it' photo competition.
According to a release from GTA, the contest was part of Tourism Awareness Month activities in November 2012, and attracted participation from across the country. A panel of judges selected the three winning entries from a total of 70 photographs in three categories: attractions, scenery and culture.  Entry into to the competition was free and was open to all amateur photographers over 21 years.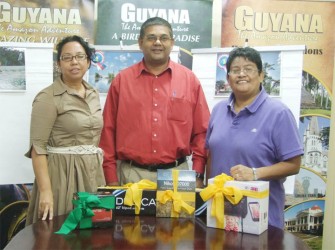 Duane De Freitas won the first prize – a Nikon 16 megapixel camera. Amanda Richards won both the second and third prizes – a colour printer, a tripod and a photography book. They were presented with their prizes last week in a simple ceremony at the GTA office in Sophia.
The release said De Freitas's photo, in the category of 'People', depicted riding the rapids in a canoe, just below Corona Falls.
Richards's photos were in 'Scenery', which depicted the old koker at Mon Repos and 'Attractions', which captured City Hall.
According to the release, GTA Director Indranauth Haralsingh said the activity was conceptualised to encourage persons to capture and share the beauty of Guyana.
"We just wanted to encourage everybody to see it, snap it and send it.
A picture tells a thousand words and we can share so much of Guyana by sending photos to people we know and posting them on Facebook or sending emails.
The GTA decided to run this contest, and with the widespread use of digital cameras it became easy for people to have the means to participate in the contest," Haralsingh explained.
He said the GTA will use the photographs to promote Guyana at trade fairs, expositions and in publications.
The winners lauded the GTA for the activity and expressed gratitude for having an outlet to showcase their photographs.  They also made valuable suggestions on ways to expand and improve the contest.
Around the Web