In the wee hours of yesterday morning, bandits gained access to The Garage—the popular hangout spot located along Aubrey Barker Road—and carted off a variety of valuables.
Estwick Northe Jr, the business' proprietor, said that around 5 am yesterday he received a call from a passerby who informed him that there were persons at the premises.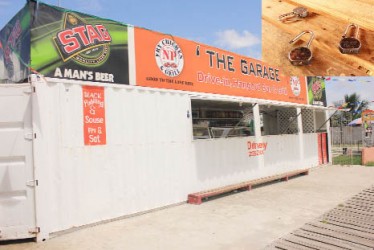 Northe's father had stated that they had closed off operations for the evening at around midnight on Thursday, which meant that there should not have been anyone on the premises. He said that by the time he arrived on the scene, the thieves had made good their escape.
Northe said he was at a loss as to how they would have entered the business grounds, since all the entrances were tightly secured. He opined that they may have jumped one of the fences surrounding the compound and went about gathering the items they eventually stole.
In all the bandits removed three 52-inch flat screen TVs, a generator, a microwave, the tape deck for the sound system and a DVD player. No money was taken since none is usually left at the business when it closes each evening.
Northe explained that two of the three TVs were secured by metal frames, which the bandits somehow bent and dislodged. The DVD player, which was also secured by a metal fixture, was removed via similar methods it seemed.
He said the generator was being stored in the kitchen which also enables access to the main business area, where the other stolen items were situated. The padlocks which secured the kitchen were sprawled.
He said the bandits made their way into the main business area where they removed the tape deck, microwave and the third TV, which served as the monitor for the security surveillance system.
It is believed that the men exited the compound through the western portal which they opened by sprawling the padlock that was used to secure it.
This is the second time in less than three months the establishment has been robbed. Northe said that in November 2012, bandits gained entry to the premises and relieved them of a microwave, a generator, and an industrial mill.
When Stabroek News arrived at the scene of the crime around midday there was a police officer present dusting for finger prints, but the business was functioning normally.
Around the Web