Vendors at the New Amsterdam market suffered major losses when 18 stalls were broken into between Thursday night and yesterday morning and two constables have since been taken into custody in connection with the raid.
Stabroek News was told that the two constables were arrested after security guards from the nearby J's Supermarket reported that they heard pounding sounds coming from the market.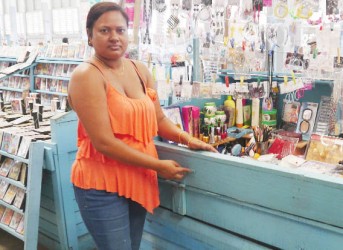 The bandits gained entry by ripping open a rotten section of the metal door at back of the market. They broke into Bobby's Jewellery Establish-ment and removed his tools, which they used to pound some of the locks from other stalls open. They left the tools behind.
The vendors were disappointed that the constables did not contact them after the break-ins were discovered. Some learnt about it when they arrived to open their stalls for business yesterday, while others found out through telephone calls from other vendors.
The vendors were angry too that the constables were carrying out investigations at their stalls with the police in their absence.
Junior Local Government Minister Norman Whittaker, who was at the New Amsterdam Town Council for a scheduled meeting, later met the vendors and listened to their complaints.
Jacqueline Rose, an electronics vendor, suffered $10 million in losses. Bandits carted off a quantity of items like digital cameras and camcorders, cellular phones, iPads, video games, flash drives and perfume sets from her stall.
She was shocked when she arrived at the market around 7.30 am to find the locks to her stall broken and the door sprawled open. A lot of empty gadget boxes were also scattered outside the stall.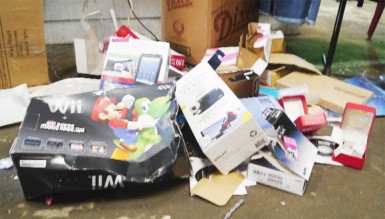 Nearby, Shazida Abdulla who sells garments, ornaments and Islamic accessories was counting her losses.
She was in the midst of her household chores when she received a telephone call just before 7 am alerting her that her stall had been broken into.
When she arrived she met some constables outside with a number of angry vendors venting their frustration. Only persons who were affected were allowed to enter the market.
She said a constable escorted her to check her stall and she noticed that the hasps and staples were wrenched open and that the door was broken. Many of her items were also scattered on the ground in front of her stall.
The businesswoman said she had so many items it was not possible for her to determine what exactly was stolen.
Among others who suffered losses were Babita Bhagwandin and Nargis Armogan who sell cosmetics and costume jewellery; Priya Kataballi who operates a salon and beauty shop; Patricia Davis, a footwear vendor; Melanie Henry and Jacqueline and Kenneth Profitt, garment vendors and
James Charles who sells scented oils.
They were trying to pick up the pieces and continue with business yesterday. They lost thousands of dollars in items.
The vendors blasted the municipality for poor security and said that "with all that pounding that was going on to break the locks from those stalls they [constables on duty] still couldn't hear…"
According to them, the market has over 20 constables during the day but at night only two would work, including females.
They said the constables would be at the "front of the market during the night but they need to walk around often… More guards should be placed at the back door too."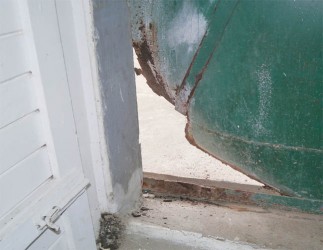 The vendors said better facilities like proper lighting are also needed and that the constables should be provided with better weapons.
They said the municipal officials, including the mayor, the deputy mayor and the town clerk need to make an effort to walk around in the market to listen to the views of the vendors.
They were angry that although they pay rent for the stalls their items were not being properly protected.
According to them, during last year the market officials marked off boundaries for their stalls. They were told that if they happened to go past the boundaries, they would turn up the next day to find an extra padlock on their stalls. This would only be opened after they would have paid a fine of $2,000.
"They just don't need to see if we go past the line to punish us but they should try to see how to make us sell in comfort," the vendors
lamented.
They also called for proper representation, stressing that business was already slow and the robbery has resulted in a major blow to them.
Meanwhile, in October last year, bandits broke into a jewellery store belonging to Zainool Husain and stole $1.5 million in jewellery.
They had also broken into Patrick Williams's photo studio, and a stall belonging to Rasheed Hack and stolen a quantity of cell phones.
After that break-in, two market constables had also been taken into custody.
The robbers had apparently broken into the Town Hall on the upper flat and then gained access to the market below.
Around the Web