The University of Guyana Student Society (UGSS) yesterday promised an electrifying Mashramani show that will return the university to its former glory when it launched 'Campus Bubblin,' scheduled for February 16.
Marvin Wray, Coordinator of the UGSS, speaking at a press conference in the Education Lecture Theatre, at the Turkeyen Campus, said the event was an effort not only to raise funds for the university but also to create an atmosphere of cultural unity among the students.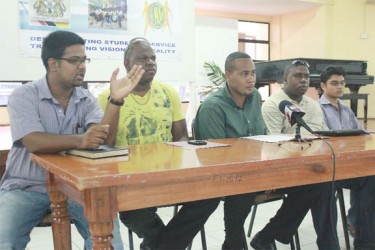 The UGSS was approached by Team Suga Entertainment with the suggestion for the event and it quickly accepted. The newly-elected UGSS executive said 'Campus Bubblin' was the podium for the development of the university.
Amir Dillawar, Public Relations Officer for the UGSS, said when they were approached by Team Suga Entertainment with the initiative to help develop projects for the university a part of their vision was complete. "It's our vision.
It is basically where we want to see the university in five or six years. This society and the university have been greatly supported by the government and businesses but we need more investments. We have a vision for this university and this mega event will definitely help us," he said.
He said it was a brilliant initiative from which he expects tremendous returns. "The event is basically for the university… raising funds to basically fix up the university."
He said the society hopes that through the Mashramani event it will be able to finance building a debate square to resurrect the art of debating. The society is also seeking to reconstruct the Sophia Entrance Bridge which is falling apart.
Wray said he hopes other members of the private sector would join in their effort and help promote the event. "Currently we have a number of companies on board with us: Giftland OfficeMax, Banks DIH, Hotel Tower… and many others," he said. "We are going to take entertainment in Guyana to a whole new level."
He said the society is expecting to be a part of the Mashramani Calendar next year and will ensure that 'Campus Bubblin' becomes an annual event.
The event will be held on the campus grounds on February 16 at 3pm. He said they have already signed contracts with international performers Shal Marshal and the Karma Band. "We will be keeping the public updated with the event through the next weeks."
Around the Web