Fourteen years after it stopped serving dinner, high demands from local and Diaspora customers saw German's Restaurant yesterday resume its evening dining service, promising its customers safe and hygienic Creole food with its special flair.
The restaurant, famous for its soups, launched the 'German's Evening Dining Experience' yesterday at its New Market Street, Cummingsburg location. The evening restaurant will be opened Monday to Saturday, from 6 pm to 10 pm and will cost customers an average of $1,200 or less per meal.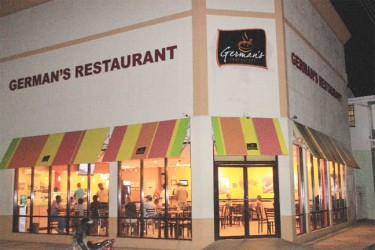 Managing Director Clinton Urling told Stabroek News, in an interview, that it was changing nighttime eating trends of Guyanese and the current demand for healthy Creole food at night that initiated the reopening.
"This restaurant was established since 1960 and was over the road then moved to Robb Street and there we used to offer nighttime dining. When my father [Hubert Urling] died in 1999 we discontinued the service," he explained.
"Now we have decided to resume after 14 years, mainly because we see a lot more Guyanese eating out in the evening than let's say 10 years ago. The demand, too, [came from] not just from the Diaspora but our regular everyday customers, who have been saying to us for years 'there is no good place to eat in the night' and they also want to move away from the heavy rice and fast food and fry chicken so here we are," Urling added.
With a menu to cater to the myriad tastes of diners, management promises that no one will be disappointed. "We will some traditional menu items, such as soups which is the taste of the… restaurant, there will also be the tastiest barbecue chicken and different types of fries and wedges along with other sides and salads for those who don't want to eat heavy at night," explained Urling.
Over $15 million was invested in modern culinary equipment to cut the time of food preparation while bringing diverse cooking methods. These include a state-of-the-art grill for barbecuing and new fryers among other items.
Additional staff of about 10 ten persons will be added to the current 20 person employed at the entity.
It is the staff, Urling stressed, which makes the restaurant receive the accolades it does, not only for the tasty food, but the unique and exquisite service they provide, since service is the number one priority.
The price of an average of $1,200 or less per meal ensures that the customer base is wide. However, the affordability of the meals would not compromise service.
"I would eat every meal from this place if I am allowed because although I am a schoolchild the staff treat me with respect and make me feel as if my money is the last in Guyana," a smiling School of the Nations student told this newspaper.
Questioned about security, given the restaurant's location, Urling rubbished claims that it was not secure proudly testifying to being in the area for 14 years without a single complaint of robbery or any other crime committed against customers.
He opined that the issue of security was raised because of the nearby 'Tiger Bay' area being stereotyped and its residents criminally profiled.  He recalled that he had gone to a local commercial bank seeking a loan for expansion and was told that the location for the business was high risk; as such he was rejected. "There still is a stigma attached. They are still hung up on the idea of here being Tiger Bay where this and that happens. In 2005 we heard that and proved that wrong. That stigma is still there, but it's based on assumption and not facts…," he said.
He said it saddens him to hear his restaurant's location tarnished as it is the community's vigilance that has contributed to its "14 years and zero accounts" record. He said that while it is not publicised, German's donates all of its remaining food in the afternoons to residents of the community and they have an excellent business-community relationship. As such, he feels safer there than anywhere else.
German's plans to expand across Guyana and soon Linden will see a branch. In addition, there will be a German's in the Giftland mall and there are plans to venture into other malls being built in the country.
The German's Restaurant team is urging the public to plan a time in the evenings and go to be treated by the staff to scrumptious alternative cuisine with an evening ambiance not compared with anywhere else in Guyana.
Around the Web