The government has failed to honour any of the promises it made to the Region Ten administration in the August 21, 2012 agreement brokered to end a more than month-long protest in the region, the main opposition A Partnership for National Unity (APNU) said after a meeting of its leadership council on Thursday.
In a statement issued yesterday, APNU said matters pertaining to the impasse between Region 10 and the Donald Ramotar administration were discussed at the meeting, which was held at the Office of the Leader of the Opposition, at Hadfield Street, Georgetown.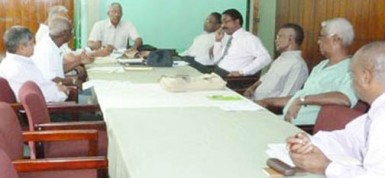 "The government has so far failed to honour any of its promises pertaining to a signed agreement… between the representatives of that Region and the Ramotar administration," it said.
At a public meeting held at Linden one week ago, the people of the region were urged to no longer tolerate government's backtracking on commitments made in the agreement.
There has been marginal progress on the agreement, which provided for a Technical Committee to reviewing electricity rates in Linden—which had triggered the protest—and an Economic Committee tasked with examining crafting a sustainable development plan for Linden and Region 10.
The agreement also catered for the government and Region 10 to agree to the establishment of a Region 10 Regional Land Selection Committee, as well as to return the dish and transmitter for the TV station to the Linden community, with the government to facilitate a broadcast licence for the region.
There was a two week-deadline for both areas, but this was not met.
The government has cited various reasons including the resignation of the chairman of one of the committees and a difference of interpretation over the television transmitter for the lack of progress, while the private sector and other groups have urged that both sides stick to their commitments.
The Linden protest followed the killing on July 18 of three Linden protesters and paralysed the region and surrounding areas for more than a month.
A separate commission of inquiry has almost finished its work on the killing of the three protesters.
Meanwhile, APNU's statement added that its leadership council also discussed its current legislative agenda, local government elections and several other current issues.
The APNU leadership council is comprised of representatives of the 10 groups that make up the partnership. Its next meeting is scheduled for February.
Around the Web